Innovative Funding and Financing for Watershed Health: Opportunities for Corporate Engagement
Posted by

Date

February 23, 2021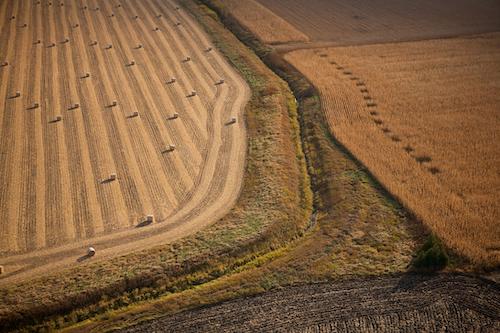 There's no doubt that companies and other stakeholders are interested in mitigating their water risks and ensuring water security in the long-term. Agricultural best management practices and nature-based solutions are increasingly seen as tools that can contribute to water security for people and nature with multiple benefits. For example, a 2020 publication estimates that supporting increased conservation efforts alongside more sustainable agricultural production and consumption will help stem the precipitous loss of biodiversity the world is currently experiencing (see Figure).
But projects supported by companies often don't move beyond the pilot phase or reach the scale needed to ensure the health of an entire watershed. In a 2020 landscape assessment on nature-based solutions for watersheds, companies identified inadequate financial resources as a key barrier to project implementation and efforts to scale. Large mainstream investors are often discouraged from considering NBS and agricultural BMPs due to perceived high transaction costs and limited large-scale investment opportunities (above $5 million) (TNC 2019).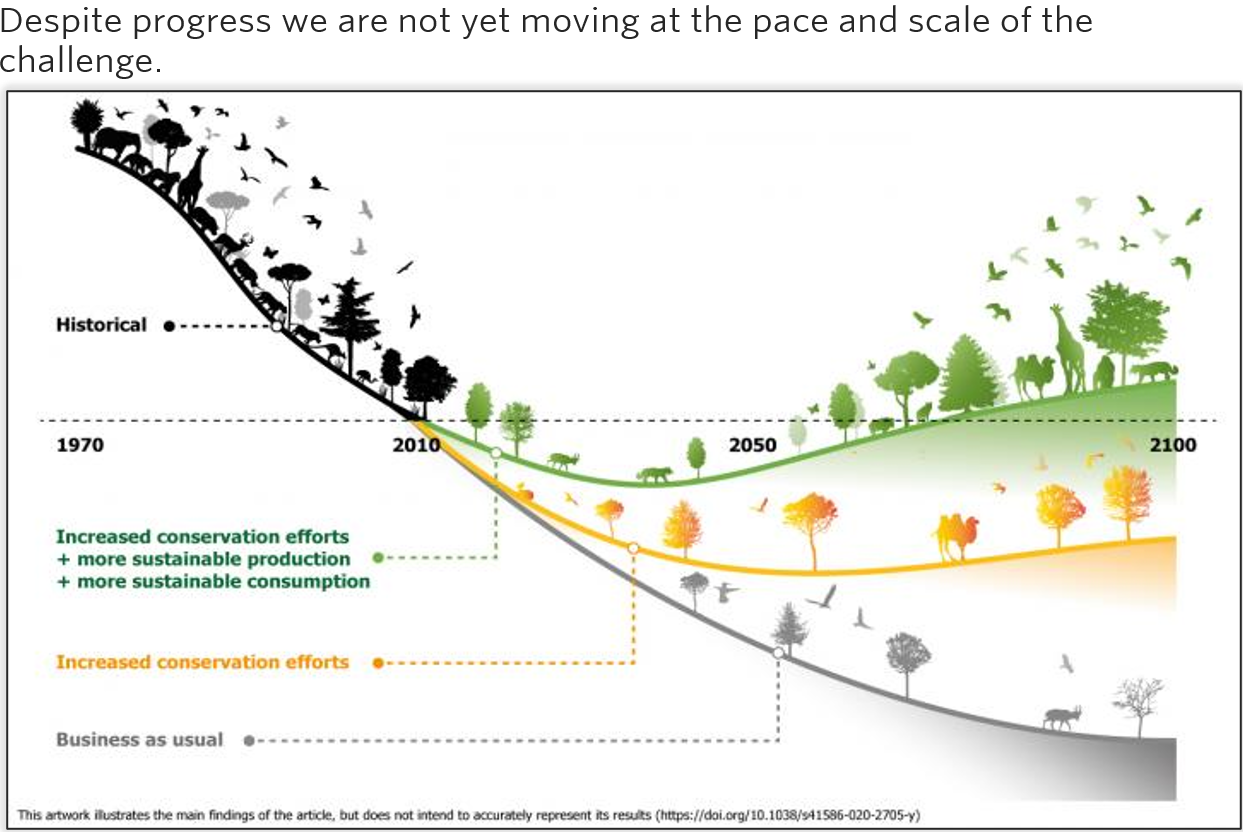 Last month, The Nature Conservancy (TNC) convened a group of leading companies and organizations supporting the private sector for a roundtable discussion to address this challenge and explore new ways of leveraging innovative funding and financing for watershed health. With representatives from AB InBev, ARCA Continental, Cargill, Coca-Cola, Danone, FEMSA, PepsiCo, Pacific Institute/CEO Water Mandate and 2030 Water Resources Group, the group shared case studies, explored new pathways for scaling projects and discussed ways to better facilitate sustainable financing of watershed initiatives.
The case studies the companies independently chose to share highlight that agriculture continues to present opportunities for financial innovation for water security. Nearly all cases had farmers as recipients, even as a range of financial mechanisms were used, from incentive-driven payments, to grants, to impact investing and equity investment. The case studies shared in the roundtable are included below (with links where information is publicly available):
| | | |
| --- | --- | --- |
| Description | Funding/Financing Type(s) | Recipient |
| Ramthal Drip Irrigation Project in Karnataka, India and its replication across the state | Performance incentive-driven public-private collaboration; market access | Farmers |
| Increase aquifer recharge through nature-based solutions and loans to farmers for conservation agriculture | Grants; Water Fund; loan guarantees; internal corporate funding | Farmers; local community |
| Soil and Water Outcomes Fund for promoting on-farm conservation practices by selling environmental outcomes in Iowa, Illinois and Ohio, US | Performance incentive-driven payments; revolving fund/impact investing | Farmers |
| Innovative funding for groundwater recharge basin supporting almond farmers and local community in the US | Grant tied to almond procurement (price premium); replenishment project | Farmers and Community |
| Reduce water use in rice farming leading to improvement in rice quality in Pasuruan, Indonesia | Performance incentive-driven payments; market access; potential for payment for ecosystem services | Farmers |
| Monetizing water savings in barley supply chain | Venture capital | Farmers |
| Crop conversion & irrigation efficiency improvement for barley, Arizona, US | Farmer agreements (similar to crop insurance); convertible note to shareholders; market access; | Farmers |
| Sustainable Funding Strategy for the Greater Cape Town Water Fund and associated Decision Support System to prioritize and track targeted investments | Coordinated funding platform, mobilization of long-term income stream from municipal water tariffs | Water Fund (collective action platform)   |
| Expand production on already-cleared pasture lands and avoid further conversion of natural habitat in the Cerrado region of Brazil | Long term loans; Bank-company-NGO partnerships | Farmers |
| Sustainable Water Impact Fund: Institutional-scale investment fund that invests and land and water assets globally (Australia, Chile, Peru and the US) to improve the management of surface water, groundwater and farms. Investing in and operating assets that can achieve market returns and set new standards for environmental leadership and social responsibility. | US $900+ million of equity investment from institutional investors. Some water sold to other farmers through short-term sales, long-term contracts and the sale of water rights to other farmers. | Farmers |
Observations from the Session Include:
In all cases, the teams had a clear understanding of the water resource problem they were trying to solve, highlighting the importance of initial scientific assessments on water issues.
Improving water management in agriculture was identified as a consistent opportunity to leverage financing for water security. While nearly all of the cases necessitated farmer adoption, the action to scale required thinking through financial barriers both at a farm level, and at the scale of the watershed.
The cases also highlighted two ways of leveraging external financing:

Conducting a robust, multi-stakeholder process at the outset that allows stakeholders to align their interests and desired outcomes (e.g., Greater Cape Town Water Fund, Ramthal Drip Irrigation Project); more startup resources and time are required, but scale likely happens faster.
Focusing on financial innovations that can addresses individual stakeholder challenges (e.g., loans to farmers for conservation agriculture, price premium); less upfront resources are needed, but the pathway to scale is often harder.
Next Steps for Collaboration:
While the hyper-local nature of water could be a barrier to scalability, the group identified opportunities for better facilitating sustainable financing of watershed initiatives across geographies, including:

Standardizing the terminology used by interested parties
Mapping types of funding to project needs
Developing a repository of emerging templates and pathways in leveraging funding

Cross-sector collaborations, like the Water Resilience Coalition could look into pooling resources from its member companies to share capacity to support and leverage innovative finance.
TNC committed to work with the participating organizations to continue the discussion, generate and share resources, and explore opportunities through the Water Resilience Coalition and beyond. Following up on the agriculture theme, TNC recently released a series with the Food and Agriculture Organization of the United Nations on nature-based solutions for agriculture, including guidance on financing. We hope that sharing these case studies and resources can help increase sustainable funding and financing that is needed to ensure water security for people and nature.
For more information on innovative funding and financing for water security, please consult the following resources: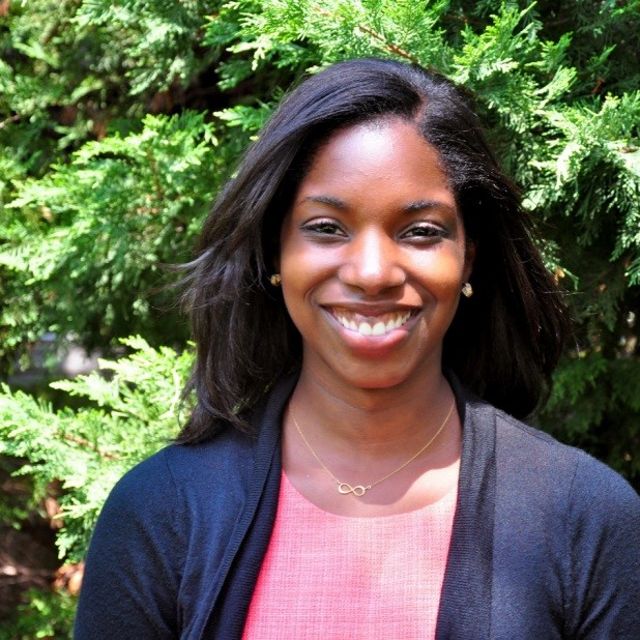 Naabia Ofosu-Amaah is Senior Corporate Advisor, Water at The Nature Conservancy (TNC), based in Arlington, VA. Naabia focuses on developing and implementing the strategy for engaging companies to further TNC's Global Water goals. This includes research on priority companies, recommendations on industries and companies to target, support of corporate engagement in TNC's regional programs, and development of tools and resources to empower Conservancy staff to continue engage companies. Naabia also serves as the relationship manager for a few of TNC's relationships with key Fortune 500 companies.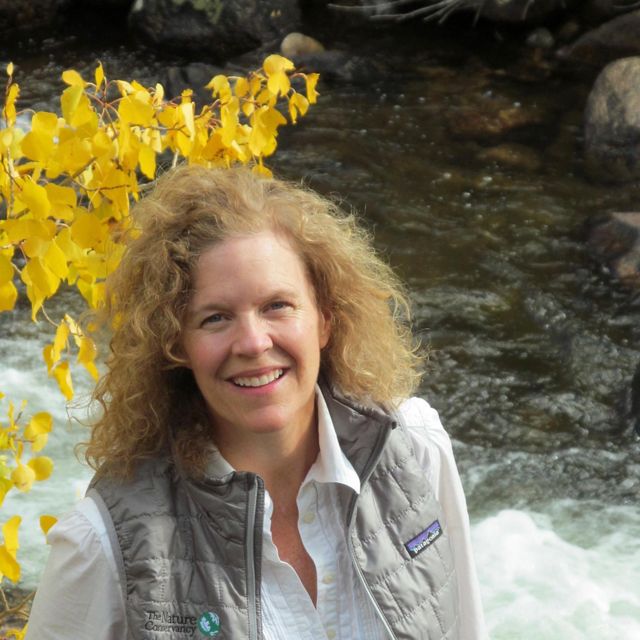 Andrea Erickson-Quiroz currently serves as Managing Director for Water Security at The Nature Conservancy. She leads TNC's team of freshwater scientists, policy experts, economists and on-the-ground conservation practitioners. The team is working to identify, test and deploy innovative, large-scale strategies that demonstrate how investments in nature will enable us to secure the water we need to prosper. Andrea is a co-author of Beyond the Source, TNC's flagship report on nature-based solutions for water security. She is a member of advisory councils such as the CEO Water Mandate and ABInBev's Global Advisory Council.