UN 2023 Water Conference – First Online Stakeholder Briefing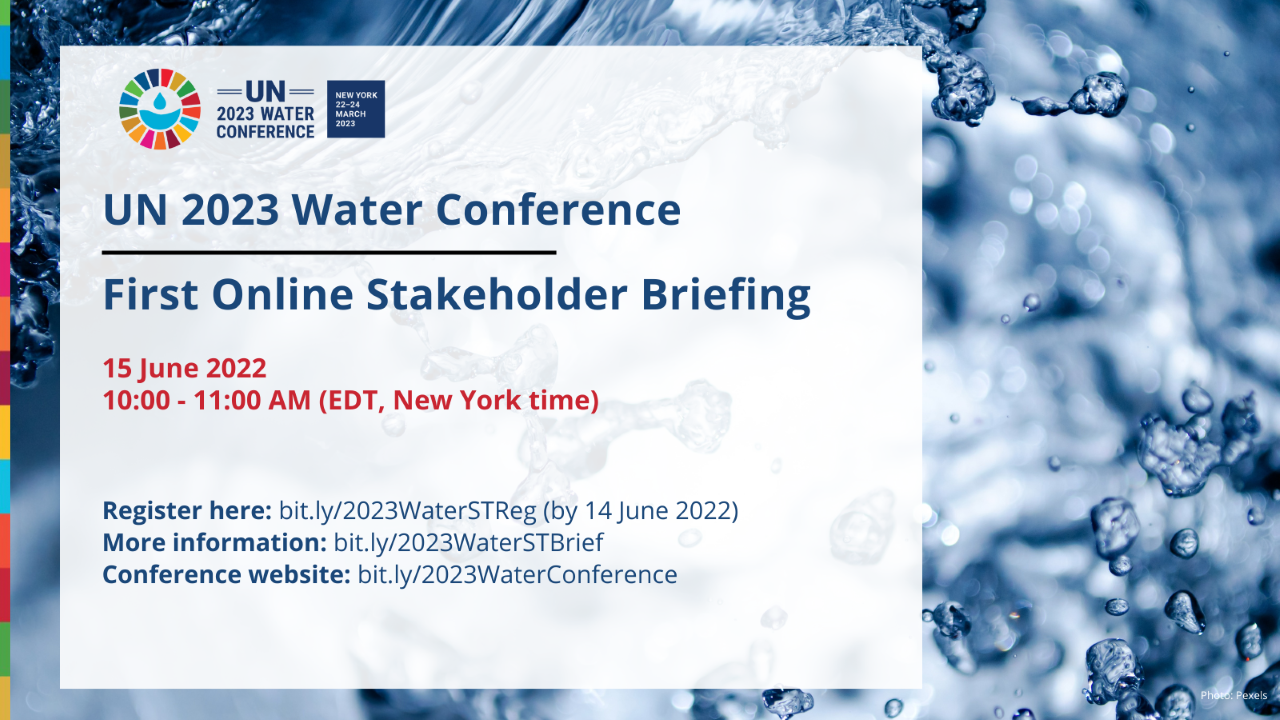 In its resolution 73/226, the United Nations General Assembly decided to convene in New York, from 22 to 24 March 2023, the United Nations Conference on the Midterm Comprehensive Review of the Implementation of the Objectives of the International Decade for Action, 'Water for Sustainable Development' 2018-2028 (the UN 2023 Water Conference). The CEO Water Mandate is leading the special accreditation process for the private sector for the conference.
On 15 June 2022, from 10:00 – 11:00 AM (EDT), the UN DESA Division for Sustainable Development Goals, as the Secretariat of the UN 2023 Water Conference, together with the Conference Co-Hosts (the Netherlands and Tajikistan), will organize an online stakeholder briefing to share information about the Conference, including opportunities for engagement and expected outcomes.
The online briefing is open to all stakeholders. The recording and presentation will be shared with all participants afterwards.
Interested stakeholders should register online by 14 June 2022 using this form: https://bit.ly/2023WaterSTBriefReg.
Date: 15 June
Time: 10:00–11:00 AM, EDT
Language: English
Water: A Rising Tade on the Corporate Agenda. The global water crisis is both an economic and humanitarian crisis — an unmitigated risk to global supply chains, profits and the well-being of communities and populations around the world. Through the U.N. Global Compact, CEO Water Mandate and the Water Resilience Coalition (WRC), a growing cohort of corporations recognize that philanthropy alone won't suffice to solve the global water crisis. They see themselves as playing an increasingly material role in the innovation, collaboration and delivery of investment capital needed to solve the escalating crisis. Leading voices tackle the increased role corporate water investments have in driving meaningful collective action toward a water-positive future.
Speakers include:
Mai-Lan Ha, Deputy Head, CEO Water Mandate, UN Global Compact
Emilio Tenuta, SVP & CSO, Ecolab
Vedika Bhandarkar, COO, Water.org
Jackie VanderBrug, Head of Sustainable & Impact Investment Strategy, Bank of America
Una Hrnjak-Hadziahmetovic, Head of Sustainability Strategy & Programs, Starbucks
Date: June 29
Time:  9:00am ET
Language: English