The CEO Water Mandate mobilizes a critical mass of business leaders to address global water challenges through corporate water stewardship, in partnership with the United Nations, governments, civil society organizations, and other stakeholders.
The Mandate is a commitment platform for business leaders and learners to advance water stewardship. Endorsing companies commit to action across six key elements and report annually on progress. In implementing water stewardship, endorsing companies also identify and reduce critical water risks to their businesses, seize water-related opportunities, and contribute to water security and the Sustainable Development Goals. The Mandate is now endorsed by over 200 companies from a range of industry sectors and regions around the world.
In addition to garnering public commitments to water stewardship from the global business community, the Mandate Secretariat supports the initiative's mission and endorsing companies in many ways:
Develops research, guidance, and tools that advance corporate water stewardship
Convenes multi-stakeholder events to identify, explore, and solve key water challenges
Facilitates meaningful collective action to improve conditions in at-risk river basins around the world
The Mandate offers a unique platform to share best and emerging practices and to forge multi-stakeholder partnerships to address challenges related to water scarcity, water quality, water governance, and access to water and sanitation.
All endorsing companies are expected to make a meaningful contribution to the work of the Mandate, financially or otherwise. While non-compulsory, the Mandate Secretariat suggests a general contribution based on the endorser's annual revenue. See the accompanying table for contribution tiers.
Financial contributions may be renewed on an annual basis and are separate from any contributions made as part of membership in the UN Global Compact or towards other initiatives within the CEO Water Mandate (e.g., Water Resilience Coalition).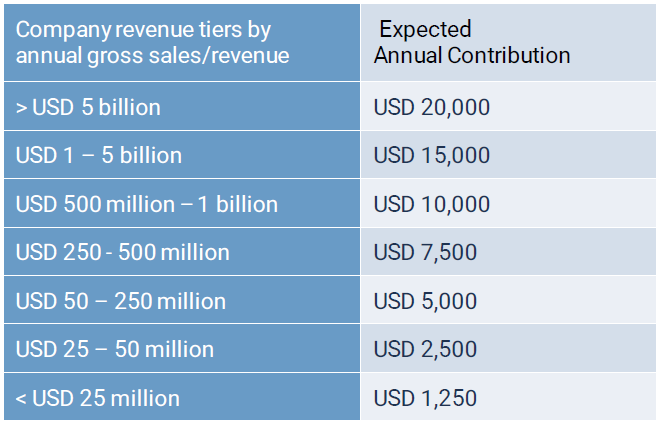 The CEO Water Mandate Secretariat
The CEO Water Mandate is a special initiative of the UN Secretary-General and the UN Global Compact, implemented in partnership with the Pacific Institute. These key partners work together as the CEO Water Mandate Secretariat.
The UN Global Compact is the world's largest corporate sustainability initiative, with more than 12,000 corporate participants and stakeholders from more than 140 countries. The UN Global Compact is based on ten principles in the areas of human rights, labour standards, the environment, and anti-corruption.