Building Resilience Faster at World Water Week 2021
Posted by

Date

August 23, 2021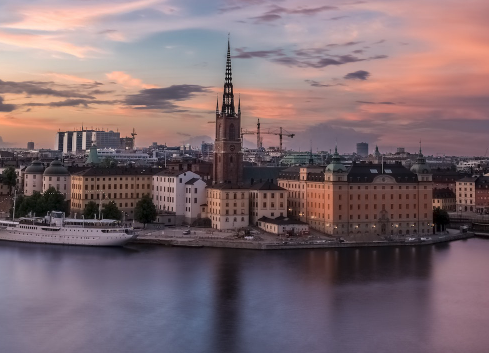 From international reports and research findings, and even from our own experience in day-to-day life, it is evident that we are far from reaching our shared global water goals. On some water issues, we even need to quadruple our pace, if we are to meet our ambitions under the UN's Sustainable Development Goals. These worsening conditions also make it evident that there is an urgent need for accelerated action. Businesses, through collective action with other sectors, are positioned at an extraordinary juncture, where environmental, economic, and community water resilience can be attained by acting decisively. But we must act boldly and swiftly!
During this year's World Water Week, the CEO Water Mandate will offer the private, social, and public sectors tools and frameworks to support such decisive action and to accelerate water stewardship and resilience efforts through 11 events.
As a key collaborating partner for SIWI's World Water Week, the CEO Water Mandate, in collaboration with IKEA and WBCSD, presents The Private Sector–Water and Climate Resilience in Uncertain Times Seminar. This event will convene business leaders with diverse stakeholders to consider leadership positions, advances in science and practice, and robust solutions to build resilience to our wicked climate change problem. Running from August 23rd to 26th, the seminar's sessions will focus on corporate leadership, collective action, and tools and approaches to accelerate the achievement of our shared water stewardship goals.
We will also launch several innovative tools during the Week. On Tuesday, August 24th we will present the Water Resilience Assessment Framework, an innovative methodology to assess water system resilience to create shared understanding and collective action. We will also launch the Water Action Hub 4.0 later that day. The Hub offers companies additional tools to assess and improve their water stewardship and understand the links between water stewardship and climate resilience. On Wednesday, August 25th we will share a preview of a state-of-the-art tool to account for co-benefits of Nature-Based Solutions (NBS). This work supports the business case for NBS investments and allows companies to make informed decisions regarding water security, climate resilience (including greenhouse gas emissions reduction), biodiversity conservation and socio-economic development.
We will also be celebrating the road we have travelled and beginning new journeys. On Wednesday, August 25th we are happy to share five years of lessons learned through our WASH4Work initiative in a session that will feature the business case for WASH, best practices in operations, supply chains and communities, and will launch a discussion about the future-looking agenda of Climate Resilient WASH. Finally, we will also introduce, in collaboration with GIZ and AWS, the new formation of the Water Stewardship Acceleration (WaSA) Forum. We seek to share how the Forum can facilitate the high-level exchange on bottlenecks, best policy practices, and increasing the visibility of the water stewardship approach on the political agenda through this session on Wednesday, August 25th.
In addition, the CEO Water Mandate is a partner for World Water Week's Leadership in Business Accelerator, a new feature for this year's conference which will highlight levers that can speed up and intensify our impact within the private sector. We will close the week with a private session part of the SIWI's Accelerator which will bring our CEO Water Mandate members and partners together to discuss accelerating achievement of water security and resilience through the concept of net-positive water impact. This session will help build a common approach that empowers companies in their journey to achieve a positive impact on water in alignment with the UN Global Compact's SDG 6 Ambition.
Find out more about how to access and apply our collective action platforms, business cases, innovative resilience metrics and novel tools that put nature at the center of solutions in our World Water Week dedicated site. Join our 11 seminars and sessions and discover with us new ways to build resilience faster.