The Business Alliance for Water and Climate to Collaborate with the Moroccan Coalition for Water
Posted by

Date

April 13, 2018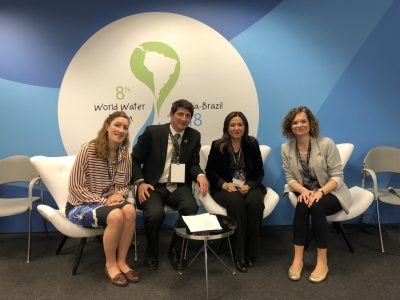 During the 8th World Water Forum in Brasília,  the Business Alliance for Water and Climate (BAFWAC) signed an agreement with the Moroccan Coalition for Water (COALMA) to collaborate on water and climate, in particular around knowledge sharing and policy engagement.
BAFWAC is an international coalition of private sector companies who recognize the value at risk from worsening water stress and climate change. BAFWAC was jointly launched by the CEO Water Mandate, CDP, the World Business Council for Sustainable Development, and SUEZ in December 2015, and has since been endorsed by the United Nations Framework Convention on Climate Change. Each year, BAFWAC tracks and reports the progress of signatory companies towards the commitment at the UNFCCC Conference of Parties. COALMA is an initiative uniting the public and private sectors around the sustainable management of water resources, particularly in Morocco.
Learn more about BAFWAC, and how to become a BAFWAC signatory.