The Business Case for Corporate Action on WASH in Supply Chains
Posted by

Date

December 30, 2016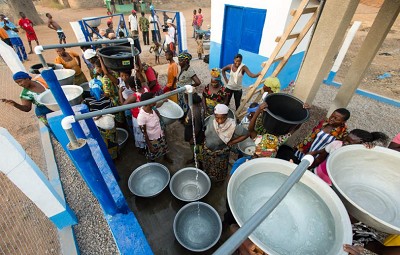 Inadequate access to water, sanitation, and hygiene (WASH) in communities around the world is a topic of increasing interest for the business community. First and foremost, inadequate WASH reinforces and exacerbates poverty. Promoting WASH is a critical part of Sustainable Development Goal #6.
Beyond that, business efforts to improve WASH – both in supply chain facilities and the communities surrounding them – turns out to be good for business.
In this post, we discuss why.
The Macroeconomic Case
Poor WASH leads to annual losses equivalent to 5% of GDP in sub-Saharan Africa countries. (UNDP, 2006)
Inadequate WASH is associated with global economic losses of USD 260 billion every year, largely due to lost time and productivity. (WHO, 2012)
Basic provision of WASH at home and in the workplace enables a robust economy by contributing to a healthy and productive population and workforce, with benefit-to-cost ratios as high as 7 to 1 for basic water and sanitation services in developing countries. (OECD, 2011a and 2012a)
Healthier workers can result in reduced staff turnover, an increase in employee retention, and employee satisfaction. Long-term community investments in WASH can lead to improved attendance and academic performance at schools, leading to a better educated and prepared future workforce. WASH may also offer a market opportunity for those interested in developing products around WASH.
Business Examples
Concrete data on the business case for WASH at site level is currently lacking. However, there has been some anecdotal evidence that supports the business case for WASH interventions:
'Access to water and sanitation leads to healthier factory employees, which in turn leads to better performance and less absenteeism.' – H&M, 2015, CDP Water
'Waterborne diseases have reduced so we pay less sick days. Efficiency is increased, definitely.' (Tea Garden Manager, Sylhet, Bangladesh – post-WASH intervention) – Wilbur and Huggett, 2015
'The work of the Foundation was developed in benefit of municipalities regarding urban planning, especially in… public health (water supply, sewage… ) and fostering the development of public health systems. Another considerable benefit is the increase in workforce availability by the reduction of water-related diseases.' – Vale, 2015, CDP Water
Others have noted that poor WASH conditions on farms may be particularly problematic in horticulture settings where products are often harvested by hand and, in many cases, eaten raw. In these circumstances contamination from poor sanitation and hygiene practices by field workers could lead to bacterial contamination that lead to products recalls, possible lawsuits, or regulatory fines, which will ultimately impact businesses.
Levi Strauss & Co. is one of the few companies who have tried to quantify the impacts of their WASH-related interventions. Levi's work with the Her Project included work on menstrual hygiene and saw a 55% fall in factory absenteeism during the six months of the project and a turnover rate that dropped from 50% to 12%. One factory calculated a USD 4:1 return on investment for engaging in the project (BSR, 2010).
A short survey administered by the CEO Water Mandate, WaterAid, and WBCSD in April 2016 which looked to collate existing data from companies related to the business benefits of their WASH interventions revealed very limited data. In most cases, companies have either not yet attempted to prove the direct business benefits of their interventions, or they have not been able to obtain the relevant data to make the connection.
Nevertheless, businesses are interested in understanding the impact that WASH can have on:
Employee satisfaction/morale
Absenteeism, productivity levels and general health outcomes
Relations with communities, consumers, and civil society
Product quality
Supply chain resilience /productivity
Similarly, the handful of companies that reported the type of information they collect in relation to WASH outcomes highlighted that they did so in order to:
Improve reputational outcomes with local communities and regulators
Improve relationships with suppliers
Increase productivity or reduce worker absenteeism
Incorporate into risk management
Understand and measure employee pride
These findings suggest a general recognition that WASH investments may lead to positive business outcomes. Companies including Levi Strauss & Co. and Gap Inc. have seen benefits related to retention, reduction in absenteeism, etc. in existing WASH interventions. However, connecting a particular intervention to a particular outcome remains challenging.
The lack of data around specific interventions and connected business benefits poses a potential barrier to moving from action by leading companies and others (e.g. SMEs) who may understand the intrinsic value of WASH investments to reaching the array of companies who need a solid business case for WASH investments. Further work in this area will be needed by governments, civil society groups, and businesses working on WASH, especially to make a strong business case for investments in WASH in agricultural supply chains. Concrete data tying these elements together is currently lacking and will be a focus for future work.
Read on
This post is an excerpt from the report Scaling Corporate Action on WASH in Supply Chains, published by WaterAid, the CEO Water Mandate, and World Business Council for Sustainable Development.
To read the report in full, go here.