AWS Standard 2.0: Water Stewardship's Contribution to Ensuring No One is Left Behind
Posted by

Date

March 4, 2019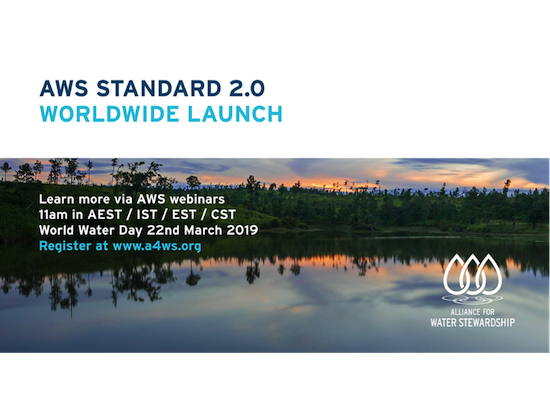 This World Water Day we are proud to be launching the updated version of the International Water Stewardship Standard (AWS Standard), the globally-endorsed definition of good water stewardship. This new version will be more user friendly and accessible and is designed to deepen the business and developmental impacts it enables and strengthen users' contribution towards SDG 6.
AWS was established to enable effective, consistent and verifiable water stewardship practice by business sites through the use of a common approach. The AWS Standard provides businesses with a robust and independently verifiable framework to understand a site's water use in the context of the catchment and work progressively to achieve four outcomes: sustainable water balance, improved water quality, good status of important water-related areas and good water governance.
Users of the AWS Standard, and members of AWS, include Apple, The Coca-Cola Company, Danone, Diageo, Ecolab, EDEKA, General Mills, Mars, Nestlé, P&G, PepsiCo, The Nature Conservancy, Veolia, WaterAid, World Resources Institute and WWF.
Member ownership tied to balanced multi-stakeholder decision-making is the bedrock upon which AWS was built. Members vote on the composition of our board and technical committee, input on our strategy and processes, form working groups on areas of key importance to their sector and, most importantly, play a central role in the development of the AWS Standard. Over the last two years we have undertaken a two-year multi-stakeholder review process involving iterative open consultations with local to global stakeholders on learnings from applying Version 1.0 of the AWS Standard. This process is now complete, and on World Water Day 2019, we will launch the AWS Standard V2.0.
We've made several changes in Version 2.0, all aimed at simplifying implementation of the Standard and improving its impact. Responding to experience and learning from implementations around the world we have reduced the number of steps from six to five. We've also clarified some criteria and their related indicators and added a number of new criteria as well which will make the Standard easier for sites to engage with on the ground. All of these changes were based on feedback from members and implementers of the Standard around the world and recognise the much-changed water stewardship landscape from when Version 1.0 was first published five years ago.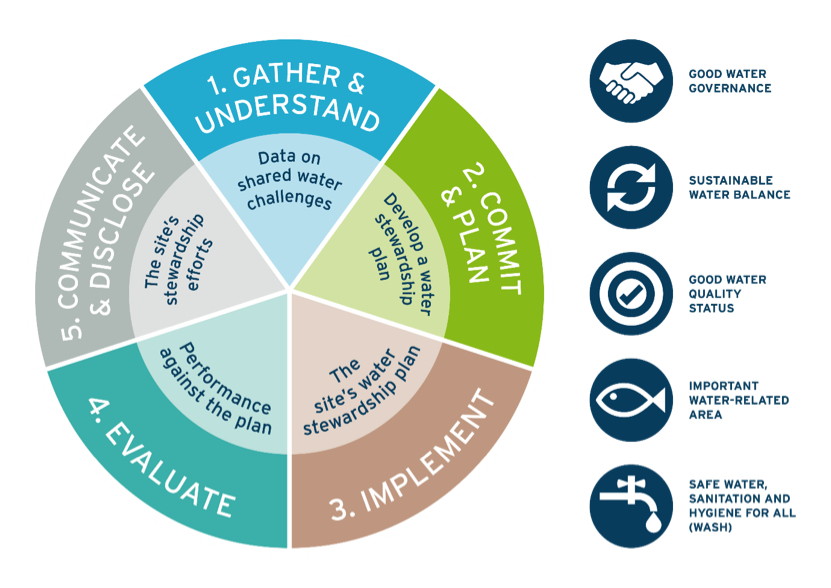 Perhaps the most significant change from V1.0 to V2.0 is the addition of a new, fifth outcome: 'Safe water, sanitation and hygiene for all (WASH)'. Whilst WASH was included within the criteria of Version 1.0, the addition of a WASH-specific outcome helps strengthen the water stewardship community's commitment to WASH and advancement towards achieving SDG 6.
Despite the progress made in recent years, we're still not progressing fast enough to ensure that by 2030, everyone has access to clean, safe water. This year's World Water Day is an important opportunity to emphasise the urgency of action needed on SDG 6. The new AWS Standard with its WASH-focused outcome provides a framework to support business' contribution to this agenda, as well as on many other issues relating to freshwater use around the world.
On World Water Day (22nd March) AWS will be hosting webinars at 11am across four different time zones to introduce stakeholders to the new AWS Standard, provide insight from implementations around the world and highlight opportunities for participants to engage with AWS throughout the rest of 2019. The webinars will be a great opportunity for existing AWS stakeholders to hear an update from AWS and learn from new case studies, whilst new stakeholders will gain insight into the global system for water stewardship and learn how it could benefit their business.
To sign up for one of the webinars, visit the AWS website, and to keep informed with future water stewardship news and opportunities, sign up to AWS's newsletter via the website and follow us on social media (twitter and LinkedIn).
I'm really looking forward to sharing the new AWS Standard 2.0 with the water stewardship community on World Water Day and hope you all agree that it is a significant step forward for water stewardship around the world and our collective contribution towards the SDGs.