The Private Sector as Part of the Solution to Address Water Security and Sanitation Issues in Brazil
Posted by

Date

January 2, 2019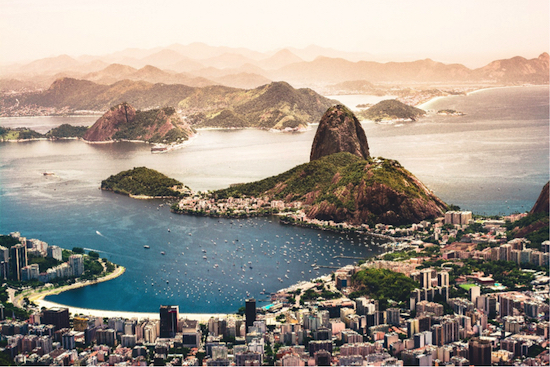 A few months after the 8th World Water Forum (8th WWF) in Brasilia – the Brazilian Association of Sanitary and Environmental Engineering (ABES, in the Portuguese acronym), held for the first time, the Rio Water Week (RWW) event, between November 26th and 28th, in Rio de Janeiro.
A second opportunity arose for the private sector to reaffirm its commitment to water issues and to present the results achieved by the private sector's engagement agreed at the 8th WWF, as well as to disseminate the private sector's messages on water security, sanitation and infrastructure.
On March 18, as Brazil hosted the 8th WWF, the Brazilian National Confederation of Industry (CNI), the Brazilian Business Council for Sustainable Development (CEBDS), and the UN Global Compact Network Brazil (GCNB) had their first opportunity to amplify the business voice within the 8th WWF as a key partner for solution delivery. The key business messages of this event were compiled into a report.
ABES invited the promoters of the 1st Water Business Day to bring the voice of the Business Sector into the agenda of the RWW. This culminated with an organization of a side full day event at RWW called "Water and Business".
The "Water and Business" event started with a plenary under the thematic of "Contextualizing the global water challenges and the private sector's role in addressing them: the business scenario for water security and sanitation issues". The plenary discussed how companies and civil society organizations are handling eminent risks of water scarcity and lack of basic WASH services in different areas of the world.
Jason Morrison (President of the Pacific Institute and Head of the CEO Water Mandate) was a speaker in this plenary together with Oscar Cordeiro (Director of Regulation – Brazilian National Water Agency) and Tom Williams (Director for Water – World Business Council for Sustainable Development).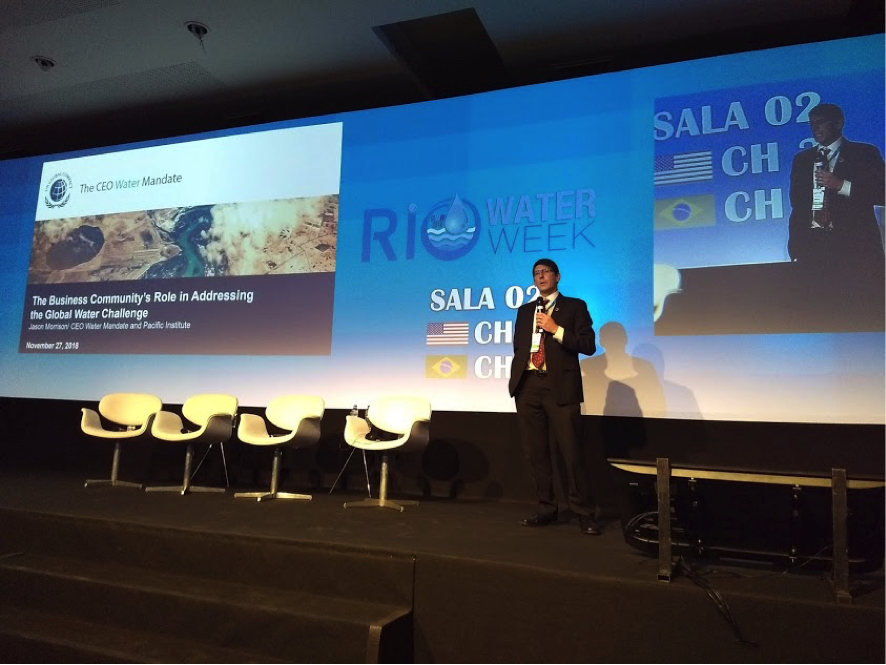 The event brought together Brazilian and international professionals and companies, also including academia, experts, and international organizations. Discussions at the Water & Business centered around water challenges, public policies, existing solutions and technologies in Brazil and globally and specifically the UN's Sustainable Development Goal #6 on water and sanitation.
Through presentations, panel discussions, and break out groups, participants were able to:
Learn more about solutions that are being implemented by companies to improve access to drinking water in Brazil: Companies such Ambev Brewery (AMA mineral water), Coca-Cola (Access + Water) and Nestlé presented their initiatives to improve water use efficiency in its operations and expand access to water in Brazil, beyond the borders of its plants and the company itself. Their initiatives are great examples of collective actions involving a variety of stakeholders, including the private sector, government and civil society, and through the outcomes shared it is possible to confirm that collective actions are critical to promoting water security in Brazil.
Understand how the productivity and competitiveness of the industry can be affected by water crises and what measures are being taken by industry in Brazil to cope with this issue in order to avoid relevant impacts on its production and sale of products;
Discuss how the private sector can effectively contribute to significant improvements in the access to sanitation in Brazil and how this sector can provide a wider support to the government to overcome the challenges related to sanitation in Brazil;
Learn more about solutions and initiatives that are being implemented by companies to improve access to sanitation in Brazil: BRK Ambiental recently launched in partnership with the Instituto Trata Brasil a report which shows that one in four women do not have adequate access to treated water, sewage collection and treatment and that universal services would immediately take 630,000 women out of poverty in Brazil. It was also launched a website supported by UNGC Network Brazil that shows some data from this study. In this video it is presented a real story of how access to sanitation impacted the life of women in a city called Uruguaiana, located in the south region of Brazil.
Discuss what are the strategies that should be adopted in order to guarantee the service to the low-income population and at the same time promote an expansion of water and sewage services towards a universal service. It was pointed out that tariff is an important instrument for the investment capacity of companies that provide services such as water and sewage.
Discuss ways to increase the investments in infrastructure in Brazil. It was pointed out that it is necessary to stimulate the greater role of private banks and the capital market in projects, and to reassess the role of public financing.
More investments on sanitation are necessary to achieve the universal access in Brazil. The average annual investment between 2010 and 2017 was R$13.6 billion (around USD 3.5 billion). According to the CNI (2018), the average required to achieve universalization in 2033 is almost R$22 billion (around USD 5.6 billion). To reach the average level of investments required to reach Plansab's target, investments would have to increase by about 60% (CNI, 2018).
In light of what was presented and discussed, starting in 8th World Water Forum and more recently, with the Rio Water Week, it seems that Brazil has a long and winding road to achieve water security in Brazil.
However, we have laid the ground and started an awareness process culminated with the creation of collective actions from a variety of stakeholders, including the private sector, government, and civil society, will be able to meaningfully advance water security in Brazil.