Rebuilding Through Collective Action on Water and Hygiene: Practical Guidance from WASH Experts and Business Leaders
Posted by

Date

October 28, 2020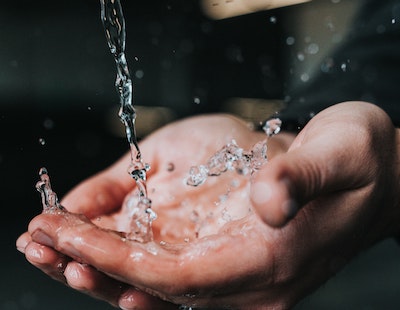 Through collective Water, Sanitation and Hygiene (WASH)-action, the business community can play a key role in combating the spread of COVID-19, secure operational continuity, build resilience to future shocks and contribute to renewing the global economy. Click here to jump to the main findings of the webinar. 
---
To combat the spread of COVID-19 and rebuild our economies during and after the pandemic, collective action on water and hygiene is essential. On October 16th, just a day after the celebration of Global Handwashing Day, WASH4Work, CEO Water Mandate's Water Resilience Coalition and WaterAid united to bring together business leaders and WASH experts in a webinar. This webinar brought together around 86 people representing international companies and organizations from different regions and sectors to discuss the importance of business WASH-action to contain the pandemic and share practical examples of how companies are taking action within their operations, supply chains and surrounding communities.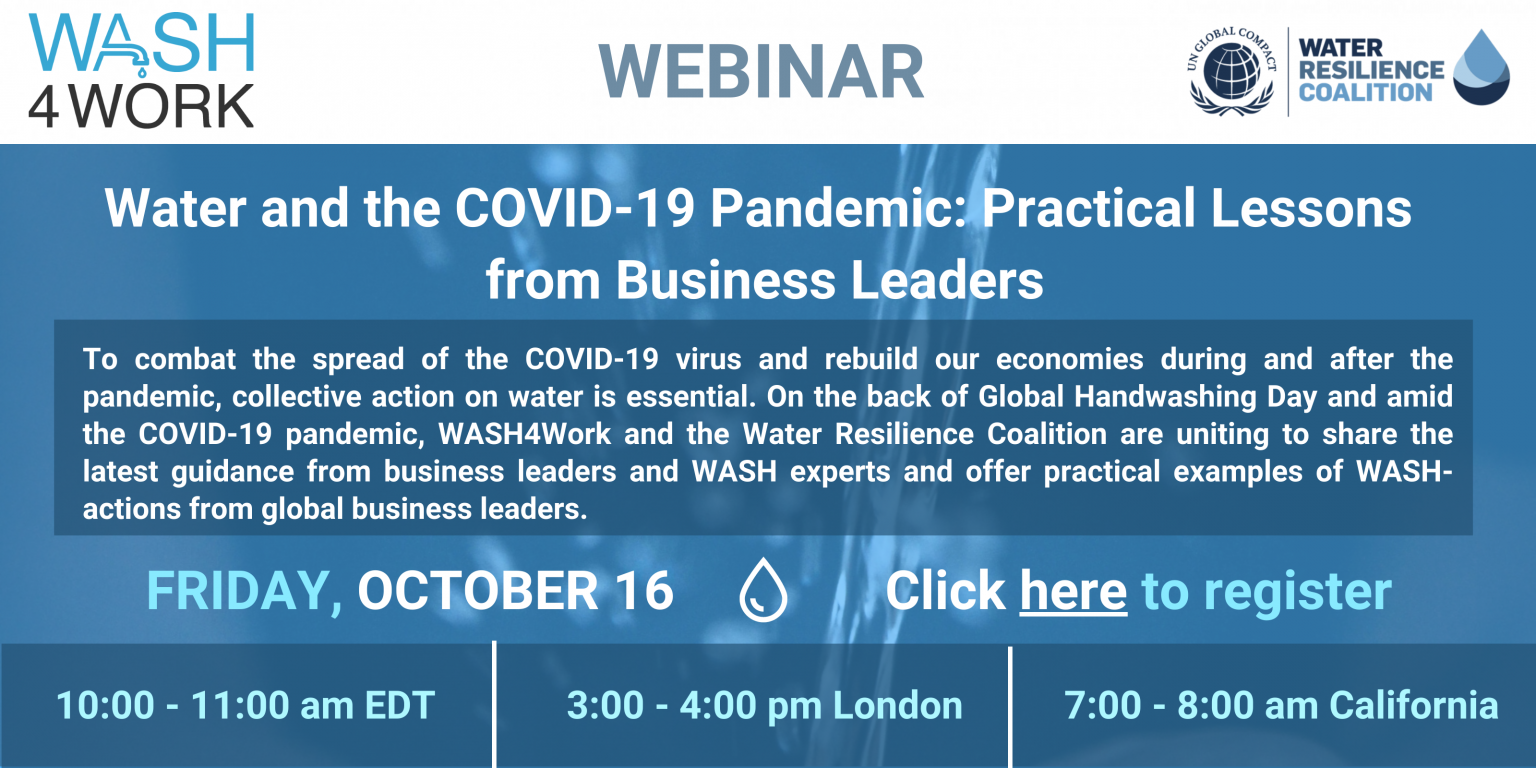 Michael Alexander (WASH4Work Vice Chair & Head of Environment, Water, Agriculture Sustainability at Diageo) introduced the webinar, providing an overview about the first webinar hosted by the WASH4Work initiative this year, where the WASH & COVID-19 focused landing page was launched with the goal of sharing tools, resources, and experiences from companies and other partners to support an informed response to the COVID-19 pandemic. Continuing the discussions started in the first webinar, this second webinar aimed to demonstrate the collective actions that have been initiated in the context of COVID-19.  This webinar offered an opportunity for WASH leaders and companies to share how they have responded to the COVID challenges – highlighting practical WASH action responses from Gap Inc. and collective action on WASH from Colgate-Palmolive through company campaigns.
During the webinar, the recently launched "Water and the COVID-19 Pandemic: A Business Framework for Water and COVID-19" was introduced. This framework, which also had a web-based version (see here) was developed by the Pacific Institute in its role as Co-Secretariat of the UN Global Compact's CEO Water Mandate with the contribution and expertise of global water, sanitation, and hygiene (WASH) NGO WaterAid. It:
articulates the connections between water, COVID-19, and the business community;
offers a practical framework on actions companies can take to advance COVID-19 response efforts in their operations, supply chains, and the communities where workers live; and
connects businesses to capacity-building resources and practical examples of water-related actions companies are taking in response to COVID-19.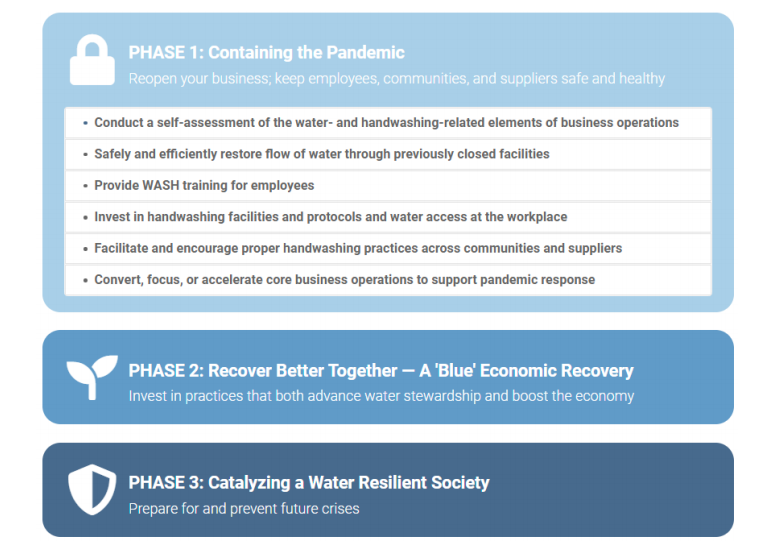 Peter Schulte (Senior Associate at Pacific Institute/The CEO Water Mandate) gave an overview on the origin and objectives of the framework and summarized its three main phases. Then, Dr. Om Prasad Gautam (Senior WASH Manager Hygiene at WaterAid), presented the WASH elements of Phase I, outlying the crucial WASH and handwashing element of each of the 6 stages. He also mentioned that the Risk assessment tool in the workplace, a key deliverable of #WaterIsResilience Campaign (Water Resilience Coalition and WaterAid Campaign), is under development. Another tool in development is the Capacity building package for training around WASH in the workplace, that is also a key deliverable for #WaterIsResilience Campaign (WRC & WA Campaign).
Ruth Romer (Senior Private Sector Advisor at WaterAid) presented the Hand hygiene protocol for the workplace, a new product developed by the WASH4Work initiative launched today on October 28th. In the context of COVID-19, it has become clear that handwashing is a first line of defence for mitigating the potential impacts of COVID-19 in the workplace.  Workplaces are often where large numbers of people congregate in close quarters, therefore handwashing with soap plays a critical role in combination with other key behaviours (e.g., mask wearing and physical distancing) to prevent the spread of COVID-19. This protocol does not provide new information but aims to consolidate simple recommendations for best practice for companies around handwashing and hygiene in the workplace focused on access, facilities, and good hygiene practice.  There is a clear call to action to include it into existing standards and certification systems; use it to implement handwashing programs in the workplace and take the WASH Pledge; and share it across your networks.
The presentation about the COVID-19 framework and the Hand hygiene protocol for the workplace was followed by a panel discussion where practical business actions on WASH in responding to the COVID-19 pandemic were presented. The discussions from participants focused on how the business community can play a key role in combatting the spread of COVID-19, as well as rebuilding the economy and reducing the risk of future shocks.
Saswat Rath (Senior Manager, Global Sustain-ability at Gap Inc.) highlighted the importance of WASH and handwashing, more specifically, to ensure workers health and safety in supply chains, contributing to business resilience. He stressed the importance of investing in WASH efforts both within and outside the fence of the factories and shared examples of WASH-action Gap Inc. is implementing with partners such as USAID, WaterAid or the Institute of Sustainable Communities to support workers, a majority of which are women more importantly impacted by the lack of access to WASH services at work and at home. Finally, he also mentioned the importance of collective action to combating WASH challenges and how the company is working collaboratively with other companies to solve those water related issues. Together with the CEO Water Mandate, Gap. Inc. and other six companies co-founded the Water Resilience Coalition. Through this coalition Gap Inc. have pledged their commitment to collective water action and net positive impact and issued a call to action for other companies to join the coalition.
Kim Faulkner (VP E2E Supply Chain, Latin America at Colgate Palmolive) also integrated the panel, sharing some key lessons from Colgate-Palmolive's previous and current campaign work to promote better hygiene and how collective action through the WRC Water Is Resilience campaign is helping complement these efforts. For instance, since 2002 the company cut in half the water used to produce their products in their factories and through their Global Save Water Campaign the company estimates having avoided the use of 150 billion gallons of water. The company has pledged by 2025 to reach 1 million people with safer access to water and sanitation facilities. One practical example presented by Kim was the partnership that the company established with Water for People in Guatemala, Peru and India that enabled the company to reach about 750 thousand people with safer and cleaner access to water and almost a half a billion of people with the company's hygiene education. In response to the COVID-19 crisis, Colgate-Palmolive decided to increase its efforts and responded with their hashtag #safehands bar soap initiative to help amplify the World Health Organization's hashtag #safehands efforts. The company also developed a simple bar soap and it quickly orchestrated five manufacturing locations on three continents to produce 25 million of these bar soaps and have partnered with four NGOs to distribute them to 28 countries that were being most affected by the pandemic. They provided not only printed instructions on the back of the soap bars but they also amplified those handwashing education materials through printed social media and local campaigns. Through those initiatives they made about 1 billion impressions with that handwashing education so far. The #safehands initiative is just such a great example of how businesses like Colgate-Palmolive and others can partner together to use their scale, capabilities and resources to just amplify and continue the great work that companies all can do collectively.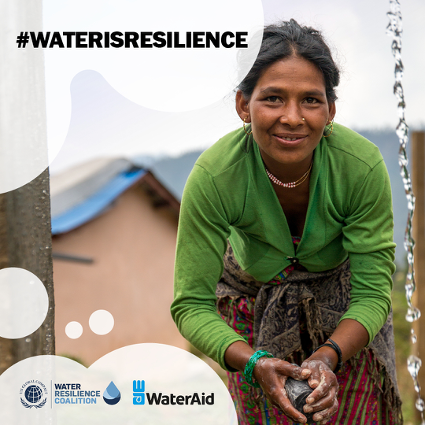 The speakers highlighted that WASH is not just a social responsibility priority, but it is a business priority and, more than ever, needs to be addressed to avoid the impacts of future shocks and pandemics such as COVID-19. Business need to act collectively to make large progress in the areas most affected in water stressed regions, and unless urgent action is taken, the impacts of the climate crisis that are mostly felt in water will only worsen in the coming years and decades, posing a threat in the access to safe water and sanitation.
As illustrated in this webinar, the business sector is adapting quickly and acting effectively to scale action in response to COVID-19. And this progress is being made not only by a company isolated, the huge success of such actions are due to the collaboration that is being implemented by companies that are working together and uniting efforts through collective actions and campaigns globally. Please join the WASH4Work community today and help us to achieve the goal of making clean water, decent toilets and good hygiene normal for everyone, everywhere by 2030. Join WASH4Work by committing to action to expand access to WASH in the workplace, in communities and across supply chains.
You can also learn about and join action on the water and handwashing elements of the pandemic though the COVID-19 portal on the Water Action Hub.
The main findings, captured in detail in this webinar, are:
WASH efforts are a business priority. WASH action can help support business resilience and should be integrated in the broader corporate water stewardship strategy.
To contain the spread of the COVID-19 and prevent future pandemics, WASH programmes including handwashing should be delivered both in the workplace and in the communities where workers live.
Some companies are already taking action to improve WASH in the workplace. However, to drive the transformational change required to meet the SDG 6, more companies need to invest directly in WASH programmes and to leverage their influence across their extensive supply chains to persuade suppliers to act.
Practical tools and frameworks to support business action are in development and will be made available freely for companies on the CEO Water Mandate and WASH4work websites. Collaboration with NGOs such as WaterAid will also help companies to act.
This is the time where the private sector needs to think and act big in relation to water and WASH. Collective actions such as the WRC offer business the opportunity to join the movement and be part of a change that will help protect the people, the planet and the economies.
If you missed out on the webinar, do not worry! You can now access the full webinar recording here and the presentation slides here.