Key Questions to Explore at AWS's Global Water Stewardship Forum 2017
Posted by

Date

September 20, 2017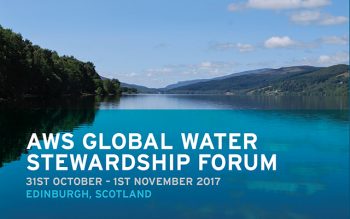 Ten plus years into the evolution of water stewardship there are several key issues that we as a community of practice need to crack. The Alliance for Water Stewardship's Global Water Stewardship Forum offers a space to focus our collective minds on these.
In 'Who's doing what kind of water stewardship, where?', Alexis Morgan, Water Stewardship Lead for WWF and Alliance for Water Stewardship (AWS) Board Member, presented a visualisation of the place-based water stewardship activity undertaken by several stewardship organisations, including 2030 Water Resources Group, AWS, CEO Water Mandate, International Water Stewardship Programme (IWaSP), and WWF. His post served as a précis to a session our organisations were collectively convening at this year's Stockholm World Water Week entitled 'Water Stewardship – Different ways but same objectives.'
The objectives of our session were to present a shared vision of how water stewardship is contributing to water security on the ground, to highlight the opportunity for further collaboration between our respective organisations and, most importantly, to catalyse fresh engagement in stewardship that will facilitate greater and deeper collaboration between the local stakeholders from business, the public sector and civil society that each of us convenes.
Returning from Stockholm, and reflecting on that event and the other stewardship-related sessions, we have some key take-aways:
After a decade of hard work by several organisations and some key individuals, place-based water stewardship practice is greatly accelerating across the globe. Six or so years ago, sessions would have been focused on theory and guidance and illustrated by reviews of a few well-versed case studies of practice.
There is an increased depth to stewardship debates with several sub-topics now meriting stand-alone sessions: WASH; climate action; financing; target setting; tools; stewardship practice in production facilities; retail supply chains; agriculture; and textiles.
As the map illustrates, there are several locations where water stewardship organisations – and the stakeholders they convene – could efficiently collaborate to greater effect should the resources to do so (e.g., corporate finance, development sector finance, investor finance) be more readily available.
As Alexis points out, there are several regions where little progress has been made – the Middle East and North Africa, West Africa, Eastern Asia, and the former Soviet nations. As a community of practice, our shared belief is that water stewardship can contribute to all the targets in Sustainable Development Goal 6. Scaling stewardship's contribution to the global goals will require greater reach into these places (which again brings us back to resource and investment).
There is a need to move from belief to evidence. As a community we believe that water stewardship can contribute to water security, the SDGs, economic productivity, resource sustainability, and fair access. Providing evidence beyond simple case studies could unlock investment and buy-in and so drive the required scale and reach. As practice expands, additional resources are needed globally to gather and synthesise this evidence – corporates, development agencies and investors have a role to play in accelerating this.
In truth, our session could have been several hours longer. Even so, it would still only have scratched the surface of both the work that is happening and the questions we collectively need to answer to drive impact and scale. The same could be said of the several water stewardship sub-themed sessions held over the course of World Water Week.
The proliferation of these sessions – combined with the emergence of new territories and new sectors highlighted by the Mandate in their annual meeting – suggest that water stewardship is undergoing a step change in adoption. With expansion of scale and scope, more context is added, which in turn brings more questions. These add greater urgency to what we at AWS colloquially term the 'Big Issues'.
These issues are the key questions that we believe our multi-stakeholder community must answer if we are to drive greater engagement, including unlocking the investment needs highlighted earlier. This shift from 'unknown unknowns' to 'known unknowns' includes:
Water scarcity: How does water stewardship practice hold up in the face of extreme water scarcity?
Water quality: What transferable lessons are being learnt from stewardship initiatives in polluting industries and sectors?
WASH: What mechanisms can stewardship offer to contribute to universal access?
Targets: What is needed to support major water users in adopting context-based target setting?
Scale: Are there models of clustered stewardship initiatives and/or collaborations between multiple actors that can be applied in other settings?
Investment: How do we strengthen the business case for new corporates, investors, and development actors to engage with stewardship?
Public sector: Where has the public sector been successfully engaged in stewardship and can this be applied in new contexts?
Agriculture: how can we achieve adequate reach, depth, and scale with the world's biggest water user?
Our staff, members, partners, and stakeholders don't have the answers to these issues, but we are keen to find them. The purpose of this post is to invite you to join us in this.
The 2017 AWS Global Water Stewardship Forum takes place in Edinburgh, Scotland on October 31st and November 1st. Our aim is to foster a collegial atmosphere where diverse stakeholders can debate, learn and evolve our ongoing practice. Powerpoints and presentations are kept to a minimum, facilitating an open dialogue between panelists and delegate participants. The outcomes of last year's multi-stakeholder discussions can be viewed here.
AWS believes that to tackle the Big Issues in water stewardship we need a multiplicity of experiences and perspectives sharing, questioning, and collaborating. If you have opinions and evidence to share, please consider registering for the Forum. Alternatively, if you are unable to make it, you can mail me your views on any of the topics listed and they'll be shared from the floor – my contact details are below. And if you want to know the outcomes, sign up for the AWS Newsletter – we'll be mailing the lessons learned shortly after the Forum.
Scott McCready
Alliance for Water Stewardship
Director of Outreach & Engagement
Email: scott@a4ws.org
Twitter: @_A4WS