The Corporate Water Disclosure Guidelines seek to advance a common approach to corporate water disclosure that addresses the complexity and local nature of water resources. This website presents key elements of this guidance in a user-friendly manner. The complete Guidelines are captured in the
PDF version
available for download below.
What is corporate water disclosure?
Corporate water disclosure is the act of reporting to stakeholders information related to the current state of a company's water management, the implications of that state for the business and its stakeholders, and how the company develops and implements strategic responses.
Disclosure helps companies:
Improve their internal understanding of water-related risks, opportunities, and impacts
Demonstrate good practice to stakeholders
Establish dialogue with stakeholders and strengthen trust and accountability
The Corporate Water Disclosure Framework
Click on the boxes below to learn more about the types of water-related information companies report.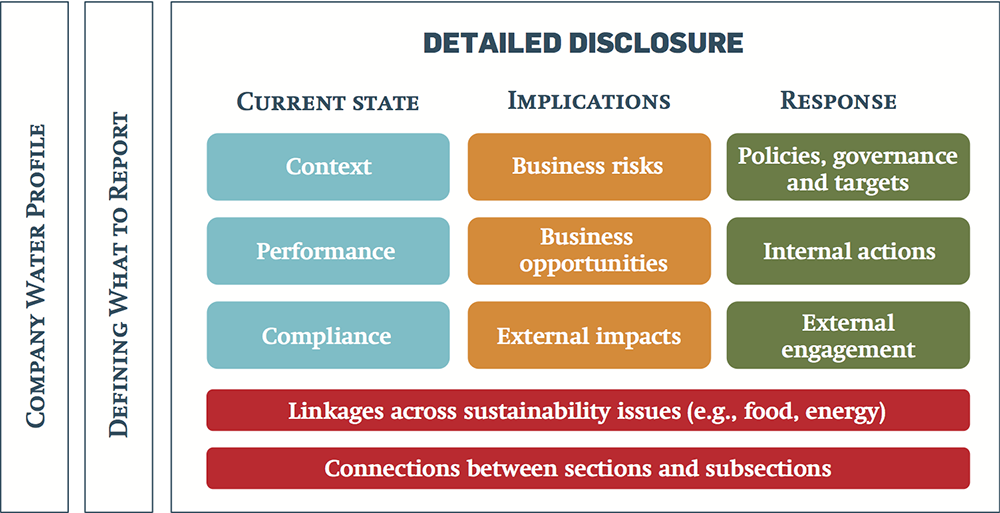 The Guidelines were developed in collaboration with:
Global Reporting Initiative (GRI) served as a strategic partner throughout the development of the Guidelines.
The CEO Water Mandate Secretariat and project team would like to thank the Mandate-endorsing companies Merck, GlaxoSmithKline, Veolia, Coca-Cola, and Sasol, whose funding support enabled the development of these Guidelines.
What is the CEO Water Mandate?
The CEO Water Mandate seeks to mobilize a critical mass of business leaders to advance corporate water stewardship – in partnerships with the United Nations, civil society organizations, governments, and other stakeholders.
Launched in 2007 by the UN Secretary-General, the CEO Water Mandate is overseen by the UN Global Compact, and implemented in partnership with the Pacific Institute.