Once a company has prepared to report (i.e., by understanding the corporate water management processes that support and inform disclosure and defining material water-related topics), it then looks to actually develop reporting content and convey it in a meaningful way to its stakeholders. The full range of water-related information companies may report is illustrated in the Corporate Water Disclosure Framework shown below.

The Corporate Water Disclosure Framework
Click each component of the Framework to access relevant guidance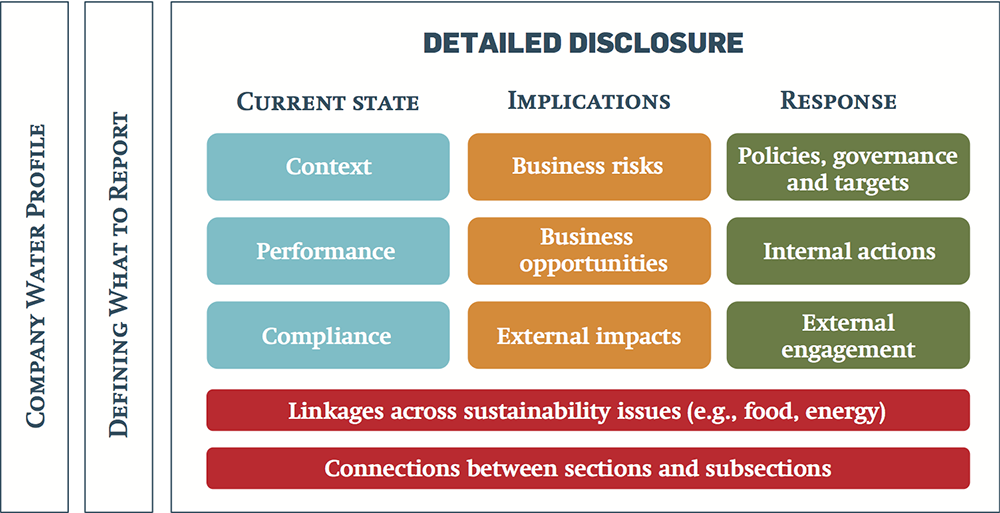 The Framework comprises three broad pillars of information:
COMPANY WATER PROFILE
The first pillar is an overview of the company's relationship with water resources, offering a snapshot of water performance, risks, impacts, and response strategies that nontechnical audiences can easily understand. Profiles include the following information:
The company's interactions with water
The company's water challenges and opportunitiest
The company's commitment and response
Profile metrics that provide a summary of companywide water performance and risk
List of hot spot basins where risks and negative impacts are most likely
DEFINING WHAT TO REPORT
The second pillar is a description of the process by which a company determines which water-related content to include in its report. The company assesses 1) the significance of water-related topics and associated business risks, opportunities, and impacts, and 2) the influence that those topics may have on stakeholders' assessments and decisions.
DETAILED DISCLOSURE
Finally, the company provides detailed metrics and qualitative information related to its water management, as well as to the specific water management programs and projects it implements. The Detailed Disclosure pillar is divided into three sections that illustrate the types of water-related information that companies report:
Current State
The status of the company's operations and the basins in which it operates with respect to water. Reporting the Current State includes three broad categories of information:
Context. What water-related conditions and trends—at the global, regional, and local levels—are relevant to the company and its stakeholders?
Performance. How does the company use and affect water resources? In what ways has performance changed over time?
Compliance. Do company operations comply with applicable regulations, benchmarks, and standards?
Implications
Interpreting the current-state information to better understand the consequences to the business and its stakeholders. Reporting on Implications includes three broad categories of information:
Business risks. How do company and supplier water performance and basin conditions affect the business with respect to profitability, productivity, regulatory pressure, and reputation?
Business opportunities. How do water-related trends and challenges create opportunities for the company to expand and improve its business?
External impacts. Do company operations or products create negative impacts on water-related conditions, such as availability, quality, and accessibility?
Response
The strategies that a company may take to address the risks, opportunities, and impacts identified in the previous section. It discusses how the company responses address those challenges or generate positive impacts. Reporting responses include three broad categories of information:
Policies, governance, and targets. Has the company created systems and developed plans designed to improve its water performance and reduce water-related risks and impacts?
Internal action. Does the company effectively respond to and manage specific risks and impacts by making changes to its production processes, procurement practices, and product design?
External engagement. Does the company attempt to respond to specific risks and impacts by advancing the sustainable management of the basins in which it operates?
Cross-cutting themes
Companies also seek to explore two cross-cutting themes that are applicable across these information areas. First, they make connections among the sections , explaining how, for example, business risks and negative impacts result from specific basin conditions and how response strategies mitigate those specific risks and negative impacts. Second, where possible, companies make linkages among water and other sustainability topics , shedding light on how water management contributes to other sustainability concerns and how other issues (e.g., climate change, energy use) may contribute to water-related challenges.