Coming Together for Shared Solutions: Reflections on World Water Week 2022
Posted by

Date

October 19, 2022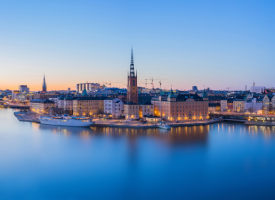 Throughout 2022, we have seen water topping the headlines worldwide. Heat waves and droughts shook watersheds across Europe and China while the worst flooding on record left almost 1/3 of Pakistan underwater. The challenges climate change poses to our water systems are clear. These challenges are painfully tangible and distinctly collective. Fitting then, that the return to in-person programming at Stockholm World Water Week enabled both tangible connections and collective problem solving.
Prior to converging in person in Sweden, CEO Water Mandate staff kicked us off with virtual sessions highlighting our leading-edge tools and guidance. On 23 August, we provided the first public demo of the forthcoming Water Action Hub self-assessment tool and previewed the Water Resilience Assessment Framework corporate guidance. Closing out the week, we showcased how the NBS Benefits Explorer can help identify and account for co-benefits in building the business case for Nature-Based Solutions. Notably, each tool works to deliver practical information to support decision-makers in taking meaningful action.
The next stage of the conference made one fact crystal clear: in-person connection is simply irreplaceable. Whether reuniting with old friends or making new allies, the return to in-person programming allowed us to invest in a foundational part of our work: meaningful relationships with our partners.
Indeed, the week's sessions highlighted just how powerful partnerships can be in building scalable water solutions. Co-convened by our WASH4Work initiative, a session on 29 August highlighted exciting findings on a joint study of the business benefits of Water, Sanitation, and Hygiene projects. That afternoon, we showcased the scalable water savings potential from our toilet leak detection work made possible by convening private companies, water utilities, and local NGOs. On 30 August, we convened 11 speakers from diverse fields to discuss shared interest in benefit forecasting and valuation for Nature-Based Solutions and convened public and private sector leaders through the Water Stewardship Acceleration (WaSA) Forum. No one actor can solve these shared challenges alone. Collaboration and collective action are prerequisites for solutions at scale.
From these sessions, two lessons were clear. 1) Actors in the water sector – corporates in particular – are eager for tangible, focused opportunities to direct their attention and resources; 2) there is deep interest in exploring the partnerships that can make those opportunities real. These themes continued reverberating through our culminating event:  the CEO Water Mandate's multi-stakeholder dialogue convened offsite on 31 August.
With sessions on building water resilience through technology and coalitions, the ROI of WASH for business, and understanding legitimate corporate contributions to basin improvement, this Mandate off-site meeting gathered over 100 in-person participants to discuss the most critical challenges and exciting opportunities of corporate water stewardship. In addition to the WASH4Work and CEO Water Mandate Steering Committee Meetings, the Mandate's endorser-only Annual General Meeting helped chart our ambitious course moving into 2023.
The week's headlines showed the effects of climate change on our water systems becoming increasingly tangible. We urgently need correspondingly tangible solutions. As our experience at World Water Week demonstrated, the most tangible solutions available are those based on partnership and collective action. Bringing together diverse actors for a shared purpose ultimately yields scalable results.