Taps, Toilets, and Good Hygiene – Critical Ingredients for Resilient Agriculture
Posted by

Date

January 30, 2020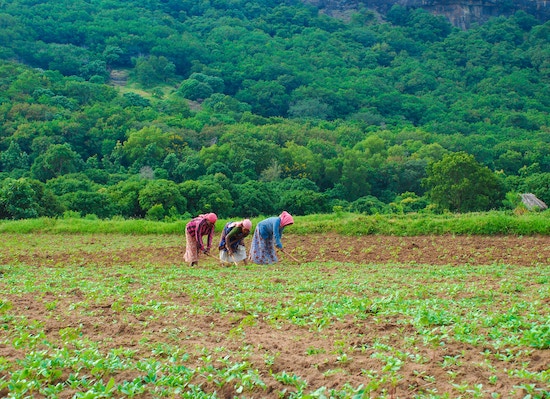 Mai-Lan Ha is a Senior Researcher at the Pacific Institute, which implements the CEO Water Mandate in partnership with the UN Global Compact.
---
2019 was a critical year for climate and water. Major events – from hurricanes to droughts and brushfires – highlight that climate's impacts are being felt now and that the world needs to take action to build resilience while also accelerating action to reduce greenhouse gas emissions. At the UN Climate Action Summit and at COP 25, Secretary General António Guterres announced that, "We must put adaptation and resilience at the centre of decision-making."
The UN Sustainable Development Goals cannot be achieved if adaptation and resilience are not integrated into planning processes. This is the imperative of our lifetime and impacts all sectors, particularly affecting the poor and most vulnerable. One of the sectors that will see the most significant impact will be agriculture. Changing climate patterns that affect water availability and quality will be one of many issues that farmers will need to contend with. Though the water and climate communities are looking at how to increase farmers' long-term resilience, much more can be done, particularly at the intersection of health, well-being, and environmental policies.
While some companies are beginning to recognize this and are integrating water access, sanitation, and hygiene (WASH) programs into their long-term water stewardship and management practices, much more can be done. One of the biggest challenges for many companies is how to tackle WASH deep in their supply chains, reaching down to the farm level where action can perhaps have the greatest impact on workers' health and well-being, thereby improving and ensuring resilient supply chains for companies. This is an area that has been generally unexplored and where few companies have taken action in an integrated manner. Last year, the Pacific Institute, in its capacity as co-Secretariat of the CEO Water Mandate, worked with the WaterAid, WASH4Work, Diageo, and the Alliance for Water Stewardship to publish the booklet Water, Sanitation, and Hygiene: Three Essential Ingredients to Resilient Agricultural Supply Chains.
Why Should Companies Invest in Water, Sanitation, and Hygiene at the Agricultural Level?
Similar to the risks that companies face from poor water management, there are also physical, financial, reputational, and regulatory issues related to investments in WASH. From helping to ensure good quality water (through improved sanitation) to ensuring long term worker health and well-being that leads to financial gains, and building long term community relations, investments in WASH in agricultural supply chains leads to more resilient supply chains.
Physical risks: We know that increasing water stress will impact communities' ability to access safe water. What has been less documented is the potential impact that poor sanitation can have on local water quality. These conditions can negatively impact workers' health and well-being, and this is further exacerbated by warming climates and the potential for more heat stress to lead to losses in productivity.
Financial: The macro-economic case for investments in WASH has been well-established with studies showing that for every $1 invested in WASH, $4.30 is generated through increased productivity. There is also some evidence demonstrated by companies that this has also translated to the factory or farm level, though more work is needed to document these outcomes further.
Reputation: Providing good WASH access can improve a company's relationship with its workers and stakeholders and improve its social license to operate by showing commitment to communities' well-being and improve long-term supply chain resilience.
Regulation and compliance: Providing WASH services to employees is often part of general regulatory compliance and expectations by governments and authorities by companies related to labor rights.
Where to Start?
Many companies have recognized the water risks their companies face and have adopted stewardship practices. One way for companies to begin to take action is to look particularly at the WASH components of their stewardship practices. In Water, Sanitation, and Hygiene: Three Essential Ingredients to Resilient Agricultural Supply Chains, we've utilized some of the steps from the Alliance for Water Stewardship's standard to demonstrate a way to start on this work. These general steps include:
Understand the local WASH context;
Develop a WASH stewardship plan for the local context;
Integrate WASH into companies' existing stewardship plans;
Where relevant work with third-party standards with an agricultural focus to embed good WASH practice;
Engage with international agribusiness groups on WASH;
These are just beginning building blocks; much more needs to be done to explore the climate connections related to WASH and its impacts on agribusiness and workers. The potential cross-cutting impacts on the health and livelihoods of those who are potentially most vulnerable to climate change's impacts will require innovative solutions, towards building resilience for all.