Businesses Must Come Together to Tackle the Global Water Crisis
Posted by

Date

March 22, 2023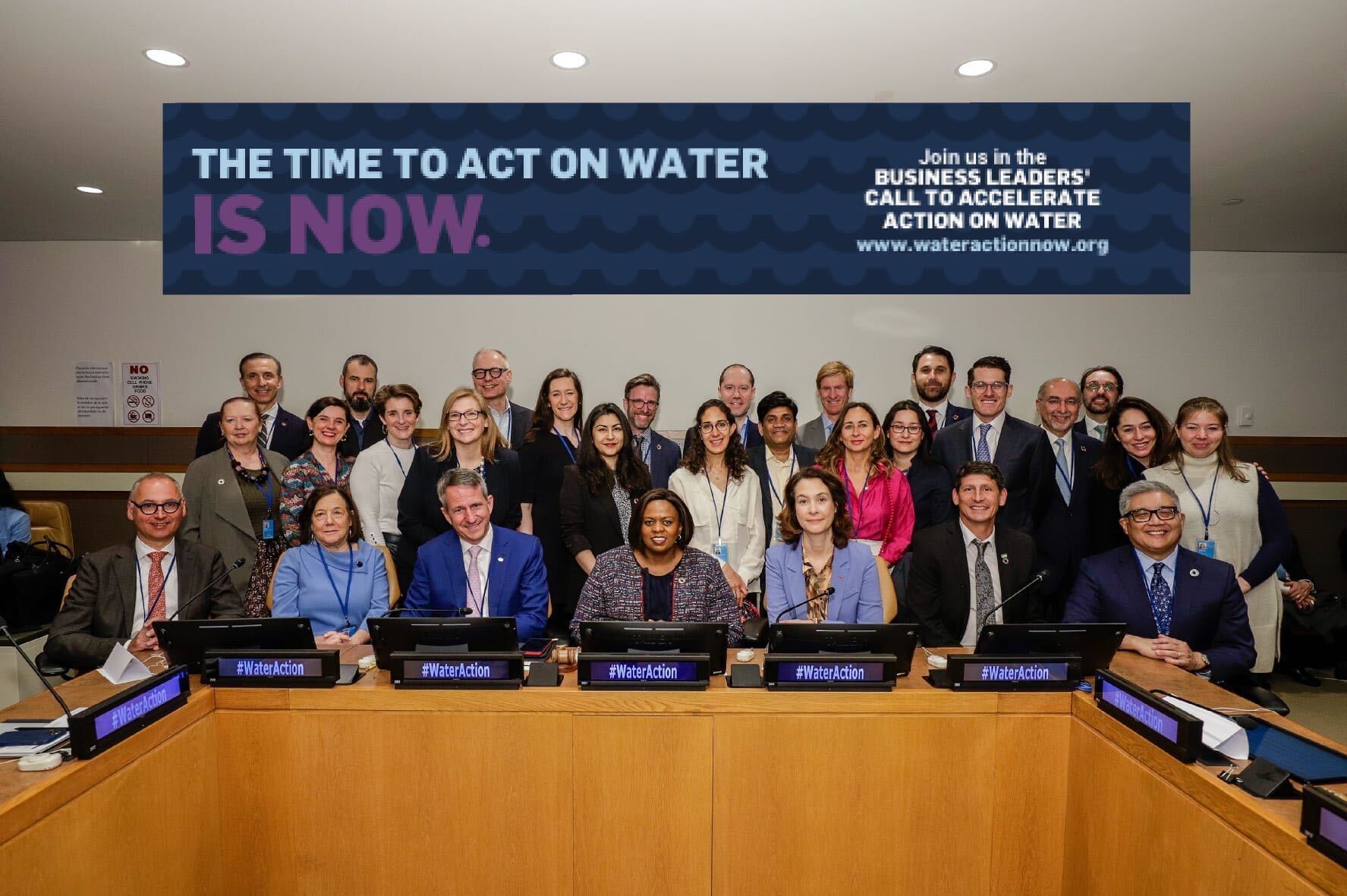 In addition to saving, treating and recycling water, companies can increase their impact through collective action such as pooling capital to invest in water, sanitation, and hygiene solutions, write Jason Morrison and Sanda Ojiambo.
This week the United Nations is holding its first Water Conference in almost 50 years.
On every continent, freshwater resources are being depleted, rivers polluted and water shortages increasing. As global warming takes effect, floods and droughts are also intensifying.
Already, 3.6 billion people, nearly half of the world's population, experience severe water shortages for at least one month of the year. Climate change is making these problems worse. Issues that once seemed far away are now touching people in the Colorado River Basin in the U.S., the banks of the Rhine in Germany, in the City of Cape Town and in small towns and villages across the globe.
At the same time, we are far off-track in achieving universal access to safe drinking water and sanitation – one of the UN Sustainable Development Goals for 2030. Worldwide, 2.2 billion people still lack access to safe drinking water, and more than half of the global population does not have access to safe sanitation. That is unacceptable.
The need for action is urgent, yet the UN warns that businesses systematically underestimate the impact of our twin water and climate crises on their ability to keep operating. Referencing its recent first report into the state of global water resources, the Secretary-General of the World Meteorological Organization warned that there was still insufficient understanding of accelerating changes in the distribution, quantity, and quality of freshwater resources worldwide.
Taking water stewardship beyond the factory gate
Our ignorance conceals a huge and growing danger. CDP estimates that some $300 billion of business value is at risk due to water scarcity, pollution, and climate change.
Businesses must be part of the solution to the global water crisis. Industry – from food production to mining, clothing manufacture to hi-tech – is collectively the single largest user of water resources. The business case for safeguarding this most precious of all inputs is unassailable.
Sure, many companies are already taking steps to reduce, reuse, and recycle water in their own operations and those of their supply chains. But businesses can and should take their water stewardship to the next level.
By coming together and taking collective action, companies can do much more to sustain water basins and local communities, which may well include their suppliers, employees and customers. This is the goal of the Business Leaders' Open Call to Accelerate Action on Water, the private sector contribution to the Water Action Agenda of the UN 2023 Water Conference. Its champions are the members of the Water Resilience Coalition (WRC), a CEO-led initiative from the United Nations Global Compact and the Pacific Institute, which aims to achieve a positive water impact in over 100 water-stressed basins that support more than 3 billion people worldwide by 2030.
One way some big firms are acting collectively is through impact investing – a form of investing specifically designed to make a positive social and environmental contribution as well as financial returns.
Through the recently launched WRC Investment Portfolio, members co-invest resources, and leverage their capital and influence to improve access to water, sanitation and hygiene.
Investing to access a basic need
The WRC Investment Portfolio is supporting two initial water-themed investment funds. The first, which is expected to raise $150 million by mid-2023, will be channeled into microfinance loans for families who need to install toilets and sewage systems. Five WRC members – Starbucks, Ecolab, Gap Inc., Reckitt, and DuPont – as well as the U.S. International Development Finance Corporation, the U.S. government's development finance arm, have all invested into this fund, which will benefit 5 million people in Southeast Asia, sub-Saharan Africa and Latin America.
A second fund will finance projects and companies intended to improve water sourcing, treatment, distribution, and reuse. Microsoft has reached a preliminary agreement to be its first investor.
The first two funds supported by the Investment Portfolio are managed by WaterEquity, the first asset manager exclusively focused on solving the global water and sanitation crisis.
So far, 28 leading global companies, and partners including WaterAid, Water.org, and Unicef, have joined the WRC but the task is huge: we need many more companies to join.
We must prepare now
The water crisis is an existential threat to business operations worldwide. But this must not be the sole reason for action. Healthy water systems are the very foundation of life on earth, underpinning food and energy security, human health, biodiversity, and many other public goods.
Companies can, and must, join forces to protect health and build water resilience in the communities where they operate. And they must help reverse the degradation of our water-protecting ecosystems.
We all need to prepare for a world of increasingly extreme and erratic weather that sometimes brings too little water, and sometimes too much. And we must do it now, because the accelerating water crisis is already affecting us all.
Jason Morrison is President of the Pacific Institute and Head of the CEO Water Mandate and its action acceleration initiative, the Water Resilience Coalition. Sanda Ojiambo is Executive Director and CEO of the United Nations Global Compact.