How to Assess and Boost Your Corporate Water Resilience: UNGC Academy
Posted by

Date

April 8, 2022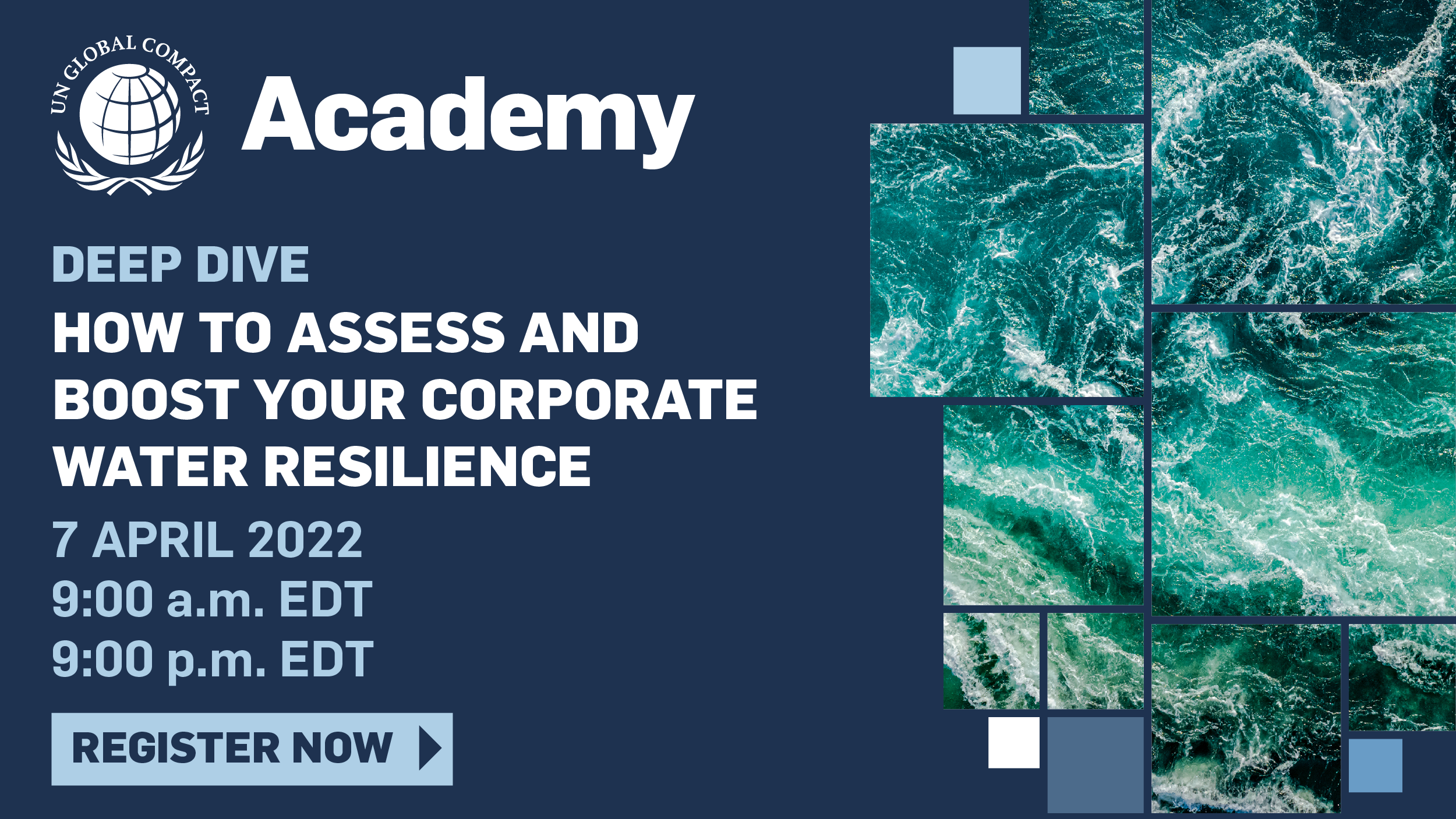 Water security is being influenced and affected by a number of factors, ranging from climate change to global pandemics. These factors fundamentally change the way we look at water systems, and how we govern and manage these systems effectively.
This Academy deep dive session will help you make effective decisions in this evolving water system. You will be introduced to the Water Resilience Assessment Framework, the first globally accepted framework to support a consistent and coherent multi-stakeholder approach to understanding and building resilience through water systems at local, regional, and basin scales. The session will provide a high-level snapshot of resilience thinking in system design, operation, and maintenance and focus on the key framework components for business. Through our new interactive deep dive learning format, you'll hear from and interact with companies and practitioners who have been part of developing this innovative framework, and learn the steps your business can take to understand and invest in water resilience.
By completing this course, you will learn to:
-Understand the resilience approach and what is required when developing a water resilience assessment for your companies
-Know what implementation of the Water Resilience Assessment Framework looks like for businesses
-Apply lessons learned for implementation from practical company case experience on how companies are integrating resilience into corporate water practices
UN Global Compact Academy Partners: UN Global Compact Water Mandate and Pacific Institute
The Water Resilience Assessment Framework is developed by the UN Global Compact CEO Water Mandate, in partnership with the Pacific Institute, International Water Management Institute (IWMI), Alliance for Global Water Adaptation (AGWA), and World Resources Institute (WRI).