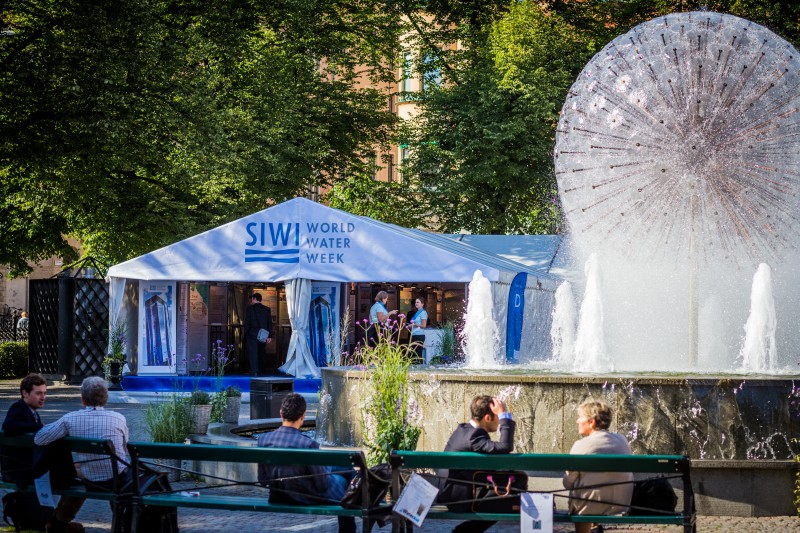 Join the CEO Water Mandate at Stockholm World Water Week 2022, 23-31 August, to convene with the water leaders from around the globe to address the world's most pressing water challenges. Engage online and in-person, on and off-site, to learn how the CEO Water Mandate is advancing corporate water stewardship and bring your voice to this valuable forum. Please find an overview of the Mandate's programing below.
The Mandate has a long history of World Water Week participation. For a look back at Stockholm World Water Week 2021, read CEO Water Mandate Head Jason Morrison's reflections and explore our archive of recorded sessions.
Join the CEO Water Mandate for our Annual In-Person Network Gathering – By Invitation Only
Following our array of on-site programming, the CEO Water Mandate will host a full day off-site event to engage with our network on water stewardship. Hosted at the Stockholm Radisson Blu Waterfront on 31 August, the agenda includes a diverse set of sessions from quarterly meetings of the Mandate's endorsers and steering committee to topical discussions and open networking time. Ultimately, the event hopes to achieve the following objectives:
Demonstrate how we are

taking action

and

having impact at scale

in the

most relevant water issues

globally

through our focus areas

 

Providing a

safe space for

companies to have

a constructive debate

around the most pressing corporate issues in water stewardship and resiliency

 

Generate a

sense of community

among the Mandate's network of practitioners

 

Initiate the discussion of a

business position for public advocacy at the 2023 UNWater Conference

 
While certain sessions will only be available for select groups, the event is open to a variety of stakeholders including endorser representatives, sustainability managers, water professionals, partner NGO directors and managers, and government cooperation representatives.
A preliminary agenda is available below:
Time
Item
09:00 – 12:00
Opportunities to scale water stewardship and resilience through technology and coalitions.

Convenors: WRC, Water Climate Coalition

12:30 – 14:00
The ROI of WASH for Business –Lunch and Dialogue

Convenors: WASH4Work, WaterAid

14:00 – 14:30
Reconnecting – Networking Mingle
14:30 – 16:00
CEO Water Mandate Annual General Meeting
16:00 – 16:30
Networking Break
16:30 – 18:30
Can We Claim That? Understanding Legitimate Corporate Contributions to Basin Improvement
18:30 – 19:30
CEO Water Mandate Reception
Date: 31 August, 2022
Time: 09:00-19:30 CEST
Type: On-Site / Hybrid / Online
Conveners:
Pacific Institute
The CEO Water Mandate
WASH4Work
Climate Change Coalition
WaterAid