Stockholm World Water Week 2018: CEO Water Mandate Events
Posted by

Date

August 6, 2018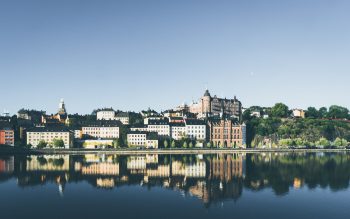 The CEO Water Mandate team is gearing up for an exciting week at Stockholm World Water Week 2018. We look forward to sharing our insights and engaging in peer learning through both conference sessions within SWWW as well as our annual off-site event.
This year's conference theme is "Water, Ecosystems and Human Development." Accordingly, Mandate sessions and discussions will focus on nature-based solutions, the human right to water, sanitation, and hygiene, the Sustainable Development Goals on water (6) and climate (13), and the role of the private sector in advancing water stewardship to ensure a secure water future for the people and ecosystems that depend on it.
The Mandate is co-convening the following conference sessions:
Nature-Based Solutions for Better Climate Resilience: Business Practice and Solutions
Date and Time: Sunday, August 26, 11:00 AM – 12:30 PM
Convening Partners: The Nature Conservancy, Danone, Forest Trends, and Ramsar Convention on Wetlands
Climate change has direct links to human health risks. Human well-being depends on how we manage and protect the natural systems around us. There is a need to manage risk and build resilience through well-managed ecosystems to reduce the impacts of climate change and human health risks.
The local context of water is pushing for integrated management of ecosystems where all the actors and communities identify nature-based solutions, such as market-based solutions for wetlands in carbon sequestration, and understanding its environmental and social impacts, including health impacts.
This session will convene businesses, governments, and civil society to discuss how innovative nature-based solutions can support and scale corporate action taking in account the local water context.
Safeguarding water-related ecosystems in the Mara River and Tonle Sap
Date and Time: Tuesday, August 28, 9:00 AM – 9:30 AM
Convening Partners: Winrock International, Tetra Tech, Stockholm Environment Institute, International Union for Conservation of Nature, World Resources Institute, and mWater
In the Mara River, SWP is working with Kenyan and Tanzanian stakeholders to improve water decision-making by providing science, tools and capacity building, including developing one of the first transboundary water allocation plans. In the Tonle Sap Basin, SWP is working with stakeholders in the Stung Chinit catchment to identify and prioritize key water security risks and implement measures that build resilience. In this Sofa Event, SWP staff and representatives of our key institutional partners, the Lake Victoria Basin Commission and Tonle Sap Authority, will describe the challenges and opportunities in the Mara River and Tonle Sap Basin, provide an overview of the approaches employed under the SWP Activities, and discuss accomplishments related to improving water security and meeting human development and ecosystem needs.
Water Stewardship Collaboration for the Textiles Sector
Date and Time: Wednesday, August 29th, 4:00 PM – 5:30 PM
Convening Partners: World Wildlife Fund, GIZ, and HSBC
This session will examine the challenges and opportunities of current sector water stewardship activities and tools, and explore how the textiles sector can align to accelerate change through collective action in key water risk regions.
In particular, the discussions will focus on how to co-ordinate resources to drive improvements in impacts, development and water governance in priority regions, and whether the relevant brands and organizations can come together within a global collaboration for textiles water stewardship.
Speakers will discuss opportunities for an aligned approach on thought leadership, target setting, policy engagement, data and tools, and particularly how to align participation in (and financing of) on-ground water stewardship programs.
WASH4Work: Tools to Accelerate Business Action on WASH
Date and Time: Thursday, August 30, 9:00 AM – 10:30 AM
Convening Partners: all WASH4Work Partners (Alliance for Water Stewardship, Diageo, Gap Inc., Global Citizen, ILO, UN Foundation, Sanitation and Water for All, The Toilet Board Coalition, UNICEF, Unilever, WaterAid, WBCSD, WSSCC, WSUP)
This event will look at how to better enable businesses to work independently and jointly with others to ensure effective delivery of WASH provision. It will explore the key attributes for developing a business case for action on WASH, the current landscape of WASH in the standards systems businesses rely on for implementation, and the innovative practices businesses are undertaking. It will include the launch of a new guidance, 'Strengthening the case for WASH' delivered by WaterAid, Diageo, Unilever and Gap Inc.
The session will involve practical exercises and discussion to explore the interconnection of stewardship and WASH practices towards building a strong business case that enables positive WASH outcomes across the value chain.
Water Stewardship: Partnership and Financing Models for Scale
Date and Time: Thursday, August 30, 2:00 PM – 3:30 PM
Convening Partners: 2030 World Resources Group, World Wildlife Fund, The World Bank Group, GIZ International Water Stewardship Program, Alliance for Water Stewardship, and the World Business Council for Sustainable Development
Focused on sharing lessons and experiences of water stewardship, this event brings together several catalytic organizations and initiatives to discuss the power of partnerships in accelerating stewardship outcomes. With a shared vision on how water stewardship can contribute to water security, these initiatives are increasingly exploring mechanisms for collaborative and concerted action, with the aim of scaling up impacts.
The event, aligned with the overall World Water Week theme of water, ecosystems and human development, aims to:
Present country-level examples of water stewardship
Discuss how innovative financing models can drive sustainability of solutions
Identify key factors for the effective design and delivery of programs, with a focus on scale
Develop a joint action plan for further collaboration to enhance the impacts of stewardship initiatives
Through a discussion on potential collaboration models within and across countries, the event aims to mobilize complementary initiatives to serve as aggregators of knowledge, networks, data, and action.
Other sessions of interest (not convened by the Mandate) include:
How Internet of Things Solves Real Problems
Date and Time: Sunday, August 26, 4:00 PM – 4:45 PM
Convened by: Ericsson
This showcase will provide a holistic overview on how innovative internet of things solutions, big data and analytics, can support better decision making, cost savings and develop proactive water management. The session will include examples of collaborative projects, such as iWater led by the City of Stockholm, Ericsson Weather Data, and a new CEO Water Mandate project to be applied in the viticulture context in one of California's prominent winegrowing regions. The session will also include the Connected Environmental Monitoring solution from Ericsson. The overall concept of real time data is both appealing and useful to water stakeholders.
Launch of ITP's Destination Water Risk Index
Date and Time: Thursday, August 30, 4:00 PM – 4:45 PM
Convened by: International Tourism Partnership
Human development is directly linked to a significant forecast growth of the tourism industry in the coming years, causing increased impact on water and ecosystems. Yet there is currently a large disconnect in the hotel industry between current water cost and water risk valuation. Water is low-priced and little information is available on local risks which makes it difficult to demonstrate a business case for water stewardship. ITP and Ecolab's new research is the first ever instance where actual large data sets (Cornell Hotel Sustainability Benchmarking Index, the Green Lodging Trends Report and Ecolab's Water Risk Monetizer) that encompass all major global markets are combined.
The results of this work are action oriented: they alert companies and stakeholders of the implications of large scale tourism development on water resources and show where to prioritize efforts. Supporting these results, the showcase will present next-level case studies with a proven business case from ITP member companies to inspire action.