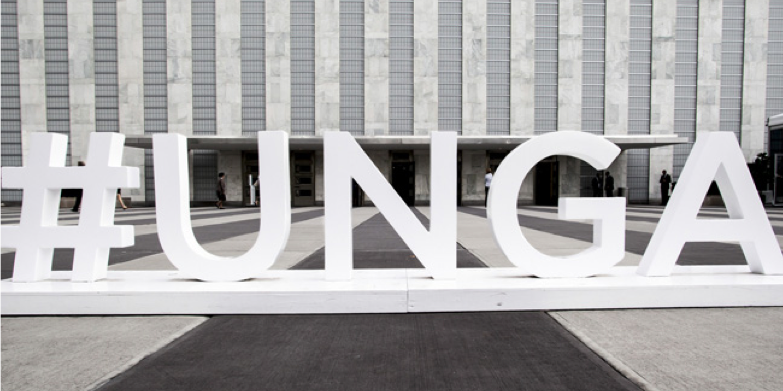 The 78th Session of the UN General Assembly (UNGA) represents a powerful opportunity to mobilize action on the global water crisis.
Join us in New York City between 17-21 September. The week's suite of programming including UN Climate Week, the SDG Summit, the Private Sector Forum among many others, will bring together representatives from business, government, and civil society.
CEO Water Mandate Annual General Meeting
This annual general meeting will be a breakfast session where the Mandate will give updates on numerous programmatic areas, upcoming priorities and activities for the year, and a reflection about recent developments with the Business Open Call to Accelerate Action on Water.
Agenda Includes:
Review of Current Strategic Plan
Mapping 2024-2026 Goals
Connections with Forward Faster
Small Table Discussions
Upcoming Workplan
Light breakfast will be catered at the venue.
Date: 20 September 2023
Time: 08:30-10:00 EST
Location: The Yale Club, 50 Vanderbilt Avenue
Type: In-Person; Recorded
Conveners: CEO Water Mandate
Corporate Water Stewardship Half-Day Event
In addition to our extensive UNGA programming, the CEO Water Mandate will host a half-day off-site event to engage with our network on water stewardship. The agenda includes several sessions. Join us in person to participate in our dynamic sessions or watch online. While certain sessions will only be available for select groups, the event is open to a variety of stakeholders including endorser representatives, sustainability managers, water professionals, partner NGO directors and managers, and government cooperation representatives.
Scaling Positive Water Impact in 100 Basins
This session will discuss how to leverage collective action to achieve positive water impact in the CEO Water Mandate's 100 priority water basins.
Agenda Includes:
Blueprint for Achieving Positive Water Impact
Case Studies of Successful Collective Actions
Facilitated Q&A Dialogue
Connections to Forward Faster
WRC Investment Portfolio
New Digitial Tools
Piloting Net Positive Water Impact
CEO Water Mandate Networking Lunch
Connect with other leaders in the global water stewardship community over a catered lunch.
Please indicate any dietary restrictions during registration.
Demonstrations of Positive Water Impact & Returns: Collective Corporate Investment Opportunities for our 2030 Ambition
This session will showcase the measurable impact that collective corporate investments can unleash to achieve positive water impact goals that also unlock new sources of financing for water resilience.
Agenda Includes:
Panel on Impact Investment Vehicles
Panel on Strategic Corporate Impact Investment
Opportunity Showcase and Call to Action
Date: 20 September 2023
Time: 10:00 AM- 14:00 EST
Location: The Yale Club, 50 Vanderbilt Avenue
Type: In-Person and Online
Conveners: CEO Water Mandate
UN Global Compact Leaders Summit
Live and in person, the 2023 UN Global Compact Leaders Summit will convene changemakers, forward-thinking business leaders, SDG stakeholders, Government and UN officials from across the globe—exceptional leaders shaping our future— for a full-day of inspired conversation, purposeful networking, and meaningful takeaways.
Water Breakout Session
To achieve the outcomes of having a positive water impact in 100 basins, as stated by the Business Open Call to Accelerate Action on Water, we need more engagement from companies and from different stakeholders at the basin level. The session will present how Local Networks of the UNGC can play a vital role in engaging local companies and in helping to identify local collective action implementers and work with them on campaigns and advocacy. We will also hear from an implementation partner about the importance of having global and local support to boost collective action outcomes. The Second part of the session will focus on ways we can innovate on the technological and financial sides to allow better decision-making processes, impact tracking data, and funding alternatives to facilitate companies' engagement in collective actions.
Date: 19 September 2023
Time: 8:00AM-6:00PM EST
Location: The Nest Climate Campus, located on the 5th floor of Javits Center North
Type: In-Person
Conveners: UN Global Compact