Profiles in Leadership: Ecolab & Doug Baker
Water Underpins Resilience to the Two Biggest Threats Facing Humanity Today: COVID-19 and the Climate Crisis
There's no denying that 2020 challenged how we think about our collective future in ways previously unimaginable — accelerating climate change, a worldwide pandemic that has left people and economies reeling, and ballooning inequalities in every society.
Central to all life on Earth is, of course, water. That goes for business, too. Yet the nexus between water, climate and the pandemic doesn't always receive the attention converging crises warrant.
The Water Resilience Coalition (WRC), an initiative of the UN Global Compact CEO Water Mandate, came to life in 2020 to tackle just these issues. The Profiles in Leadership series aims to explore what our founding companies and new participants alike are learning from this challenging year to prepare for a more resilient future — and help fulfill Sustainable Development Goal 6: Clean Water and Sanitation for all.
Ecolab, headquartered in Saint Paul, Minnesota, USA, is a founding member of the WRC and is a global leader in providing water, hygiene and infection prevention services and products — think along the lines of the now ubiquitous hand sanitizer one sees at every stage of daily life.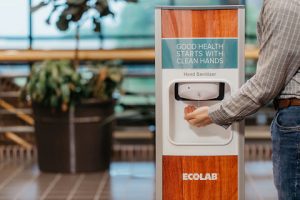 COVID-19 required Ecolab to adjust its operations and take on new initiatives. For example, in addition to its in-house sanitizer formula, Ecolab converted several of its production facilities to manufacture the World Health Organization's formulation in just three weeks, providing guidance on sanitizer handling and application protocols.
Throughout the pandemic, Ecolab worked to promote personal safety practices and to educate its associates to reduce the spread of COVID-19 while continuing to support customers around the world using remote monitoring capabilities and new digital technologies. And when restaurants, hotels and other businesses were looking to reopen and respond to changing consumer expectations, Ecolab helped deliver a higher level of cleanliness through a broad product portfolio proven to kill the COVID-19 virus, elevated cleaning and disinfecting protocols, and comprehensive training programs to help our customers return to safe and profitable operations.
But even as the company managed through the public health crisis, Ecolab Executive Chairman of the Board Doug Baker continued to keep an eye on the importance of water.
"This year has underscored the need to develop greater resiliency for today's and tomorrow's challenges," says Baker. "I'm proud of how Ecolab associates have supported our customers during this difficult time, whether by helping them control the spread of COVID-19 with antimicrobial expertise, or by providing solutions and service so they can safely resume operations. This same resiliency is needed to combat the challenges brought on by climate change and water stress."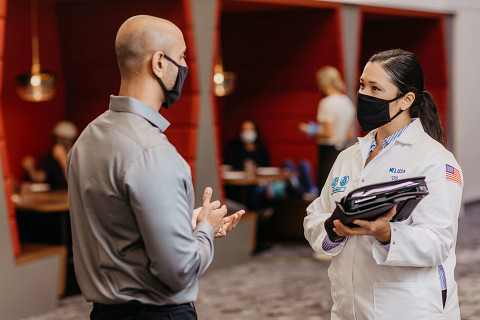 Part of Ecolab's water stewardship leadership involves helping organizations understand the value of water to healthy, long-term operations and how to adopt smart water management practices. This was the driving force behind the launch of its two publicly available, online tools: the Water Risk Monetizer and the Ecolab Smart Water Navigator. Ecolab's Water Risk Monetizer identifies the true value of water to businesses, making the financial case for water stewardship as compelling as increasing climate-driven water insecurity, and the Ecolab Smart Water Navigator generates actional step-by-step guides for facilities to improve water use performance.
"Climate change is happening right now," says Ecolab's Senior Vice President of Corporate Sustainability, Emilio Tenuta. "Companies have a responsibility to take action. Ecolab helps our customers lower their carbon emissions and save costs with solutions that generate efficiencies by reducing water and energy use. Our partnership helps customers manage climate risk with resilient operations that safeguard sustainable growth in a changing world," he adds.
As COVID-19 vaccines become more widely available, the climate crisis is set to take center stage again soon, and industry will need to up its resilience game even higher than during the health emergency of 2020. A number of companies, including Ecolab, have already started to take concrete action — through technological innovations and integrating new approaches to water management that build resilience.
Levi Strauss & Co., for example, has introduced a water-saving process called Water<Less™ that can save up to 95 per cent of the water normally used to bring a pair of blue jeans to market. This involves 20 new techniques developed by the company, which they plan to share with others to inspire resiliency across industries.
From Israel to India to Silicon Valley, Microsoft is also rising to the climate challenge, instituting practices which recycle non-potable rainwater, wastewater and even air conditioning condensation to use for flushing, landscape watering and cooling. Overall savings of potable water amounts to some 4.3 million gallons each year at its California HQ alone.
COVID-19 isn't under control just yet, and the climate crisis presents an existential challenge to our common future as the Paris Agreement marks its 5th year.
The Water Resilience Coalition's founders and corporate members will continue to brainstorm, innovate and foment collective action in this essential work to have net positive water impact by 2050.
We invite you to add your company's voice to ensure profitable and sustainable businesses in the decades ahead by joining the United Nations Global Compact CEO Water Mandate's Water Resilience Coalition.
"Our world continues to grow in opportunity and complexity," says Baker. "But we are motivated by our unique role in helping businesses everywhere support a safe and sustainable world."