The Water Resilience Coalition is an industry-driven, CEO-led initiative by the CEO Water Mandate, in partnership between the UN Global Compact and the Pacific Institute. It aims to elevate the mounting crisis of global water stress and its connection to climate change to the top of the corporate agenda and to preserve the world's freshwater resources through collective action in water-stressed basins and through ambitious, quantifiable resilience goals.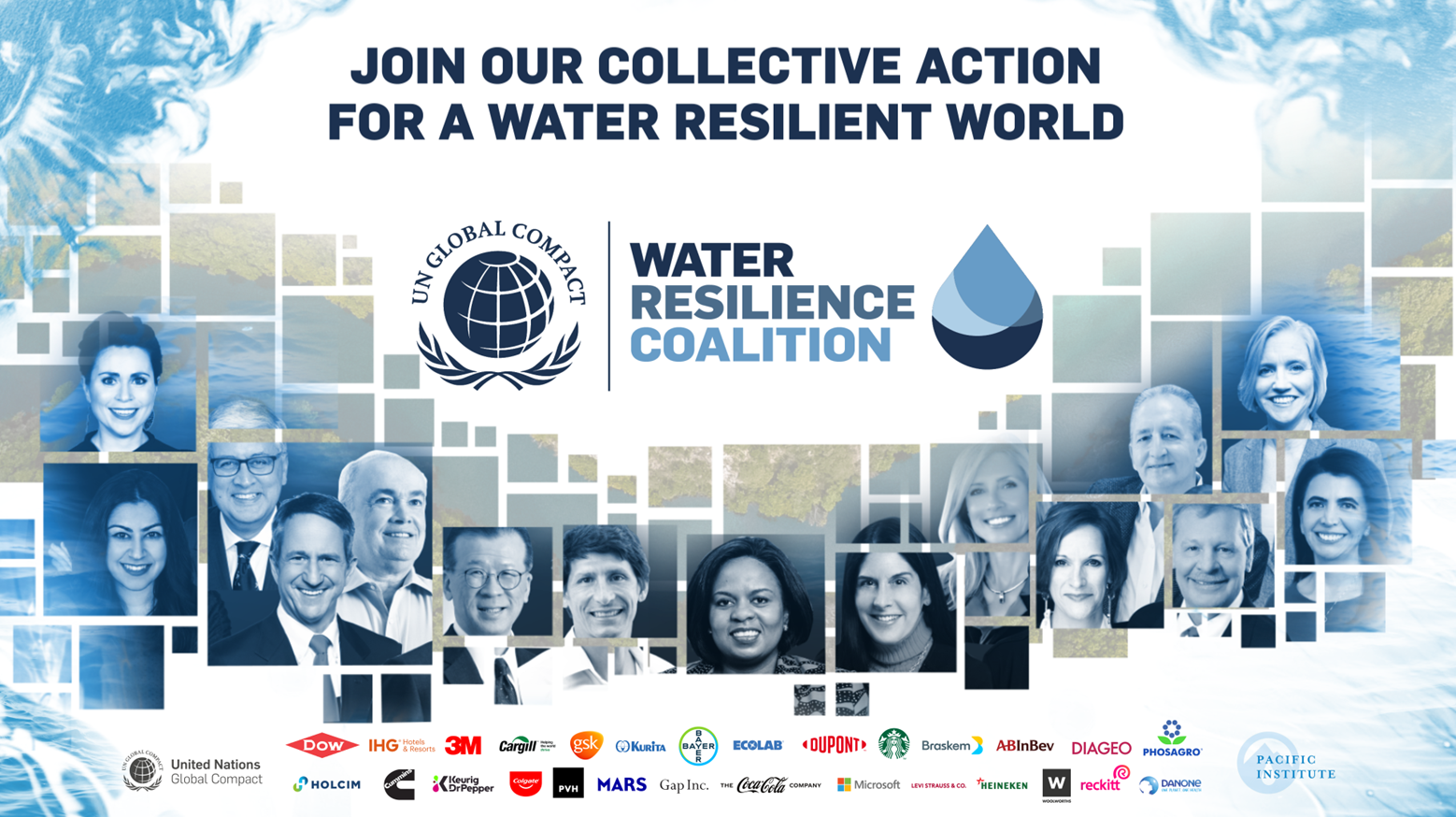 Human Problem
+
Business Problem
1 in 4 people lack access to safe, potable water
80% of wastewater discharges are untreated
Demand could outstrip supply by 40% by 2030
Water stress means:  increased costs,
production interruptions, market instability
By 2050 some regions could see GDP growth
rates decline by 6 percent due to water risks.
Following our 2030 Roadmap, we will:
Achieve positive water impact in over 100 water-stressed basins that support over 3 billion people
Enable equitable and resilient water, sanitation, and hygiene (WASH) for over 300 million people
Achieve Net Positive Water Impact in 150 water-stressed basins
Develop, implement, and enable new strategies for water-resilient value chains
Raise the global ambition on water action
– New Member Testimony (Joined 2022)
"As a beverage company dependent on water at all levels of our value chain, we have a unique opportunity to develop and support leading solutions to local and global water challenges. We are excited to join the Water Resilience Coalition and, through collective action, scale the work we have underway to build healthy communities resilient to climate change."
– Bob Gamgort, Chairman & CEO, Keurig Dr Pepper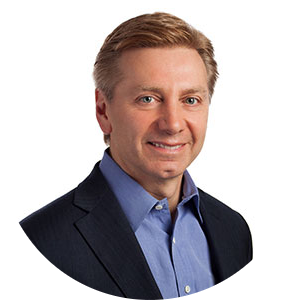 To achieve our 2030 ambition, the WRC leverages 4 key strategies that together form our 2030 roadmap: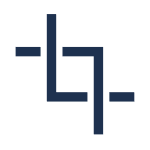 1) SCALING SOLUTIONS VIA COLLECTIVE ACTION
A single company acting alone cannot de-risk an entire basin. Many companies acting collectively can. Companies in the same basins supporting proven solutions build water resilience at scale.
2) MULTIPLYING IMPACT VIA INNOVATION
New technologies and approaches can bring new water solutions. The diverse expertise of our members in collaboration with leading partners can unlock transformative advances.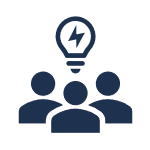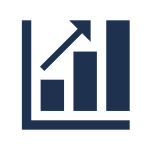 3) LEVERAGING OUR INVESTMENTS IN WATER
Direct funding models are challenging to scale up. Investment vehicles that fund water solutions and provide consistent financial returns can leverage the power of private capital to build water resilience.
4) STANDARDIZE DATA & MEASURE IMPACT
Consistent, accessible data on basin health is critical for coordinating collective action and measuring impact. Public diagnostics and continual monitoring help prioritize action and assess results.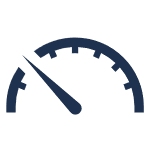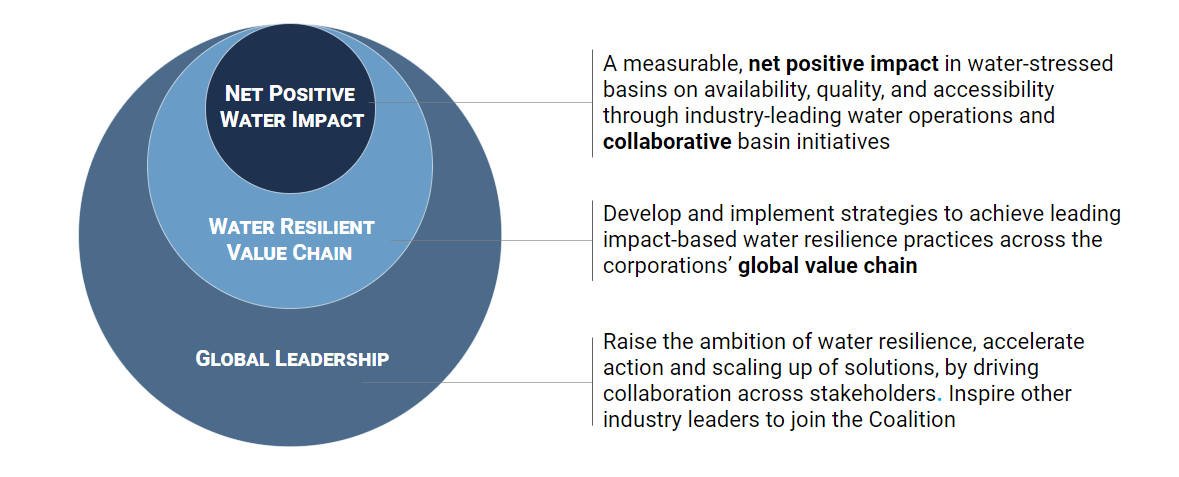 The WRC-Facilitated Collective Actions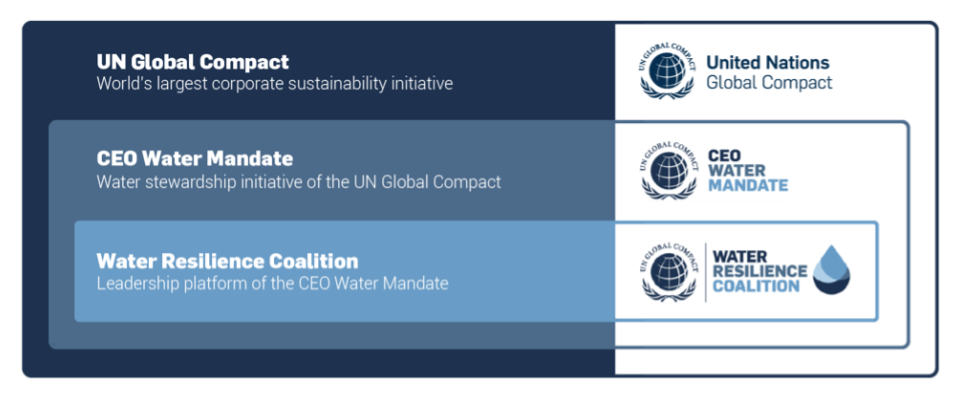 All WRC members must be signatories of the UN Global Compact.
By joining the WRC, member companies likewise endorse the CEO Water Mandate.
LEADERSHIP COMMITTEE
Up to 20 company members + external advisors
Sets overall strategic vision of the Coalition
Responsible for tracking WRC goals, progress
CEO CIRCLE
Strategic body that provides direction and insights to the WRC goals and plans – e.g. 2030 Roadmap
Composed of CEOs from Leadership Committee
COALITION MEMBER COMPANIES
Sign the Water Resilience Pledge, report progress, collaborate in watersheds
Working Groups convened to address shared barriers & opportunities (member companies opt-in)
.
PARTNERSHIP NETWORK
Composed of partners with different expertise that helps us advance the work and increase our impact
Partners fill different roles – collective action implementers; technical expertise; financial expertise; comms & advocacy expertise
ALIGNED INITIATIVES
The WRC 2030 Ambition is aligned with the Water Resilience Target of the UN Global Compact Forward Faster initiative.
Companies that join the WRC will automatically be recognized by Forward Faster for their shared commitment
Leadership Committee
Provide CEO quote upon joining
Provide locations of interest for collective actions
Senior leadership to engage publicly* about water TWICE per year – one being the CEO
Provide communications point of contact & support WRC campaigns
Recruit TWO new WRC members per year
Engage in at least one place-based WRC collective action within a year of joining
CEO to join the CEO Circle – a strategic board that meets twice per year (90 mins – hybrid)
General Members
Provide CEO quote upon joining
Provide locations of interest for collective action projects
Senior leadership to engage publicly* about water ONCE per year
Provide communications point of contact & support WRC campaigns
Recruit ONE new WRC member per year
Engage in at least one place-based WRC collective action within a year of joining
Financial Contributions
All WRC members commit to financial contributions based on membership type and company revenue tier.
Financial contributions to WRC are separate from UNGC membership fees or project-specific contributions.
Company revenue ($USD)​

<$1B​
$1-5B​
$5-10B​
$10B+​
​

Annual financial commitment for first three years

Leadership Committee Member​

N/A​
$50K​
$75K​
$100K​
​

Annual general commitment ​

Member​

$10K​
$15K​
$20K​
$20K​
Click here to become a member of the Water Resilience Coalition