Pledging for Impact at Scale
The business sector is in a unique position to help lead the way toward water resilience because of its reach and the resources it can leverage to accelerate progress. We must expand the scale and scope of our efforts to address the magnitude of the mounting water crisis. With this pledge, we plan to catalyze a movement to achieve our shared vision: freshwater basins able to consistently supply what's needed for communities, businesses and the environment on which we all depend.
The path toward a water resilient future must be meaningful and measurable.
In signing this pledge, I confirm that my company will achieve the following by 2050, through both individual and collective actions:
Net positive water impact: Achieve a measurable and net positive impact in water-stressed basins on availability, quality and accessibility through industry-leading water operations and basin initiatives
Water-resilient value chain: Develop, implement, and enable strategies to support leading impact-based water resilience practices across the global value chain
Global leadership: Raise the global ambition of water resilience through public and corporate outreach
And we will reach the half-way mark by 2030.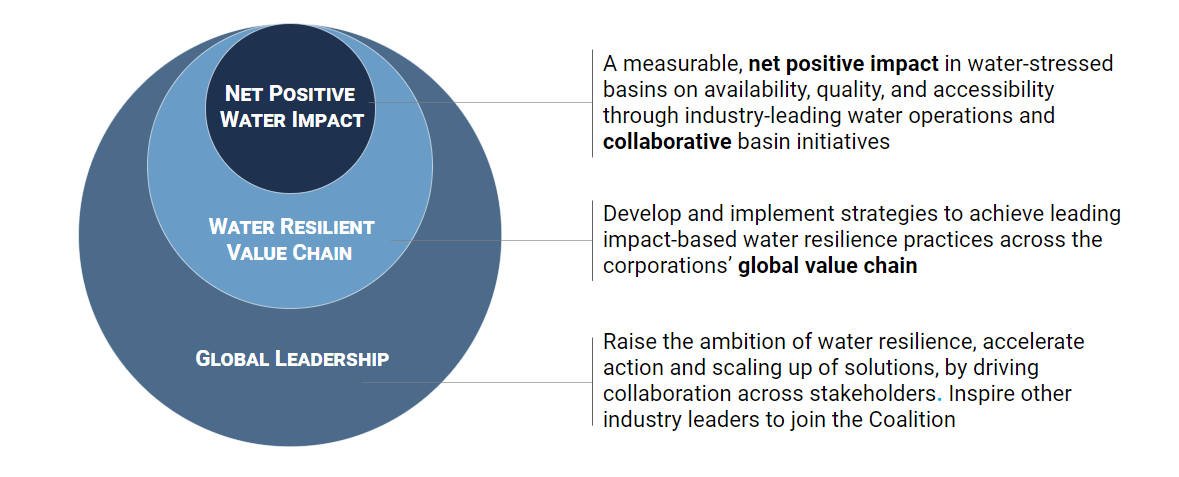 In practice, by 2030 the Coalition seek to:
Have positive water impact in over 100

water stressed 

basins that support 

over 3 billion people

Equitable and resilient access

and 

sanitation for at least 3

00 million people

Engage 150 companies

with the potential to

influence 1/3 of global water use
Pledge signatories commit to achieving interim targets toward the 2050 goals as outlined in the pledge through:
Active support of existing and new watershed coalitions and partnerships
Enabling new tools and technology
Spreading shared water use and reporting standards for supply chain
Advocating for smart water management and equitable access policies by government
Partnering with members and NGOs on water basin investment and access initiatives
To further deepen your commitment by joining the Water Resilience Coalition, sign the pledge below and then check the box indicating your interest in the Coalition. We will follow up with additional information and next steps.