Integrate and Take Action on Impacts on the HRWS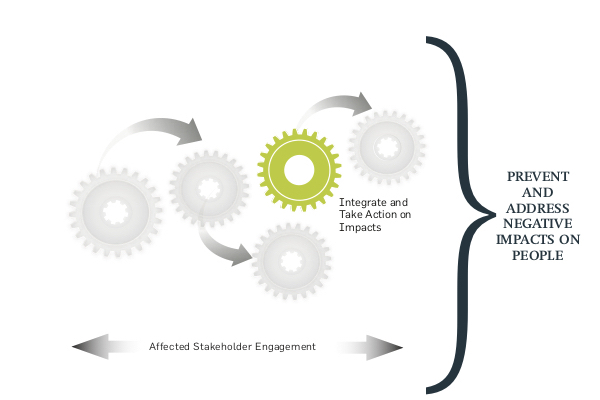 Appropriate action by a company to respond to an identified impact will depend on whether the company may cause or contribute to the impact, or whether the impact is directly linked to its operations, products, or services through a business relationship.

A company's ability to exercise leverage (or influence) is key to addressing impacts on the HRWS that arise through business relationships. Effectively preventing and addressing such impacts may involve engaging multiple parties, including state authorities.
A. Identify Options to Prevent or Mitigate Potential Impacts
The action a company is expected to take in response to an HRWS impact depends on whether it caused, contributed to, or is directly linked to the impact. So a company needs first to under- stand how it is or may be involved with an impact in order to identify appropriate responses.
Once a company understands how it is or may be involved with a HRWS impact, it should identify appropriate options to prevent or mitigate the impact. Engaging with affected stakeholders can help ensure that whatever action is taken is most likely to be effective.
B. Build and Use Leverage in Business Relationships
A company should consider the various forms of lever- age it has to prevent and address impacts on the HRWS arising through its business relation- ships and how it can appropriately build leverage where its influence is inadequate.
A company's suppliers have their own responsibility to respect human rights, including the HRWS. A company should use its leverage with suppliers to reinforce this expectation.
States have their own obligations to realize the HRWS under international human rights law. Under the UN Guiding Principles, where national law falls below international human rights standards, a company should respect the higher standard. Where national law directly conflicts with human rights, a company should seek to honor the principles of human rights as best it can in the circumstances, and be able to demonstrate its efforts to do so.
Key Term: What is the difference between embedding and integrating?
Embedding is the macro-level process of ensuring that the company's responsibility to respect human rights is driven across the organization, into its business values and culture. Integrating is the micro-level process of taking findings about a particular potential impact, identifying who in the company needs to be involved in addressing it, and securing effective action to prevent or mitigate the impact.
Key Term: What is leverage?
Leverage is a company's ability to influence the behaviors and actions of others, usually those with which it has business relationships.
Continue on with the Guide