Develop a Policy Commitment and Embed Respect for the HRWS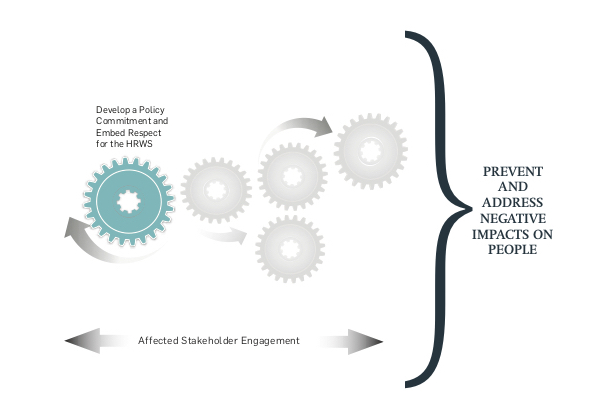 For a large-scale water-using company,

impacts on the HRWS are likely to be a leading human rights risk. The company should consider developing a policy commitment that specifically addresses the HRWS. For other companies, a broader commitment to respect human rights may be sufficient. 

A commitment to respect the HRWS may be stand-alone or integrated into existing human rights, water stewardship, or other corporate commitments.

A policy commitment should be approved at the highest levels of the company and communicated internally and externally. It should be tested during development with internal colleagues and with affected stakeholders or their representatives.

To ensure that a commitment is "embedded" throughout its operations, a company needs to drive it into all aspects of the business, including the corporate culture. This will often require cross-functional cooperation among those with responsibility for human rights and for water stewardship.
A. Develop a Policy Commitment
B. Embed Respect for the HRWS
What are leading human rights risks?
Leading human rights risks are the ones that stand out for a company as being most at risk from the company's operations (including its own activities and business relationships), when considered from the perspective of potentially affected stakeholders. The UN Guiding Principles make clear that companies should not ignore other human rights risks, but they will logically focus their primary attention on leading risks, especially where resources are limited.
What are internationally recognized human rights?
The UN Guiding Principles define these rights as, at a minimum, including those contained in the: – Universal Declaration on Human Rights – International Covenant on Civil and Political Rights and the International Covenant on Economic, Social and Cultural Rights – International Labour Organisation's Declaration on Fundamental Principles and Rights at Work. Where businesses may affect potentially vulnerable or marginalized groups, they should also pay attention to the special human rights standards applying to those groups.
Who is an impact owner?
Impact owners are individuals within the company with responsibility for those activities (e.g., human resources, community relations, operations) or business relationships (e.g., purchasing and supply chain management) that may lead to negative impacts. Other functions that may be important to engage in any effort related to respecting human rights include legal and compliance.
What is a business relationship?
These are relationships a company has with business partners, entities in its value chain, and any other entity (state or nonstate) directly linked to its operations, products, or services. They include indirect business relationships in the value chain, beyond the first tier, and minority and majority shareholding positions in joint ventures.
Continue on with the Guide