Element 1: Water Targets Should Respond to Priority Water Challenges within the Catchment
By responding to the priority water challenges within the catchment, site water targets can address water challenges and in doing so help reduce water-related business risks to the site. This can be achieved through the following actions:
Action 1.1: Understand operational risks, dependencies, and impacts
Understanding the site's operational risks helps provide an understanding of the site's material issues. Different sites may face different risks from the same water challenges due to the nature of their operations. For each water challenge, two primary operational risk questions should be asked to assess the site's dependence and impact on the catchment:
Dependencies: To what extent is the site likely to be affected by the water challenge because of its dependencies on water?

Example: An almond tree is a permanent crop that requires water every year. Groundwater overdraft due to excessive withdrawals by all water users poses a major risk to this almond orchard; potentially requiring the farmer to drill a deeper well, find another source of water, or severely underirrigate. These actions could reduce returns on almonds and potentially harm the orchard's long-term viability.

Impacts: To what extent do the operations of this site contribute to the water challenge, especially for others?

Example: A thermoelectric power plant discharges water that is warmer than the ambient temperature of the stream to which it is discharging. This could have an adverse impact on the health of downstream aquatic species, posing regulatory and reputational risks to the plant.
Action 1.2: Determine spatial scope
The spatial scope should include the site's physical boundary and the area of influence of the site's source water (i.e., local surface water, groundwater, and imported water) and water discharge. The scope should include the areas on which the site depends as well the areas that the site impacts. In some cases, this could include multiple catchments.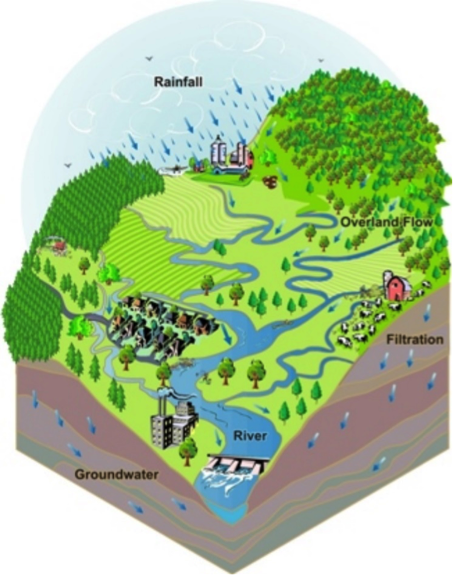 An illustrative example of a water catchment 1
Some or all of the following information should be gathered to determine the most appropriate spatial scope for analysis, with catchment information being particularly critical:2
The site's owned or managed property boundaries;
Water-related infrastructure (i.e., pumps, pipes, reservoirs, wells) owned or managed by the site or its parent organization in connection to the site;
The site's water service provider, if applicable;
Discharge points and wastewater service provider, if applicable, and the receiving water body or bodies; and
Catchment(s) and/or groundwater aquifer(s) that the site impacts and/or depends on for water.
(Note: This sub-element is like criterion 1.1 of the AWS Standard: Gather information to define the site's physical scope for water stewardship purposes).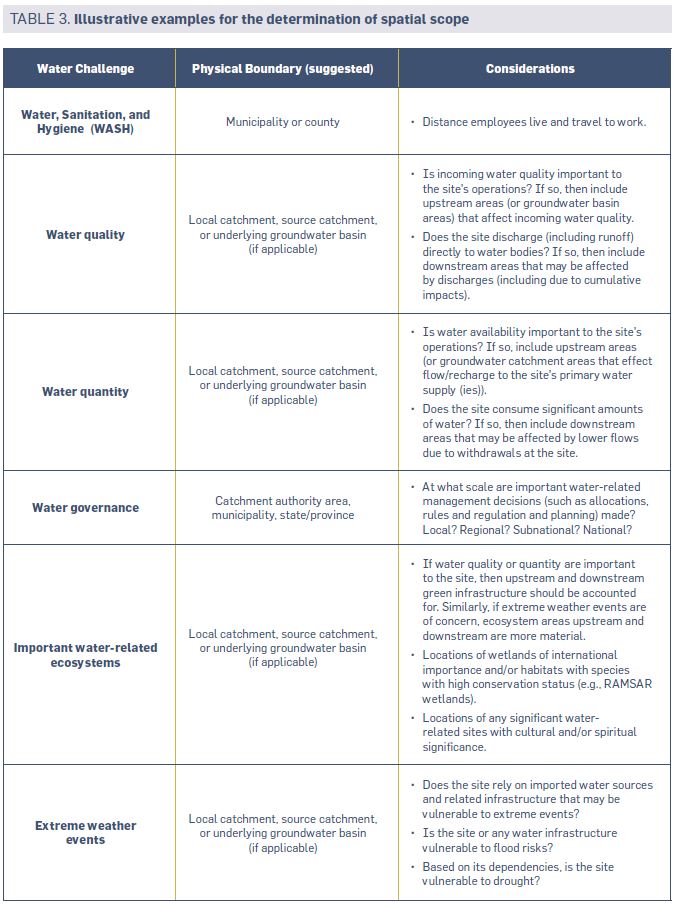 Action 1.3: Prioritize water challenges within the catchment
The next component is to understand and prioritize the water challenges facing the catchment(s) relevant to the site. Wherever possible, it is recommended that data to evaluate each water challenge be gathered from local sources (i.e., local reports, data sets, knowledge from staff and other local stakeholders). If local sources are not available, global models and water risk measuring and mapping tools, such as Aqueduct of the World Resources Institute or the Water Risk Filter can be used.3
Understanding water context can be difficult without adequate resources, expertise, and information. A site's capacity to undertake analysis will often depend on access to internal and external water expertise. Stakeholders such as non-governmental organizations (NGOs), public sector entities, academia and/or consultancies can identify local, regional, subnational, or national public water databases, models, or water management plans.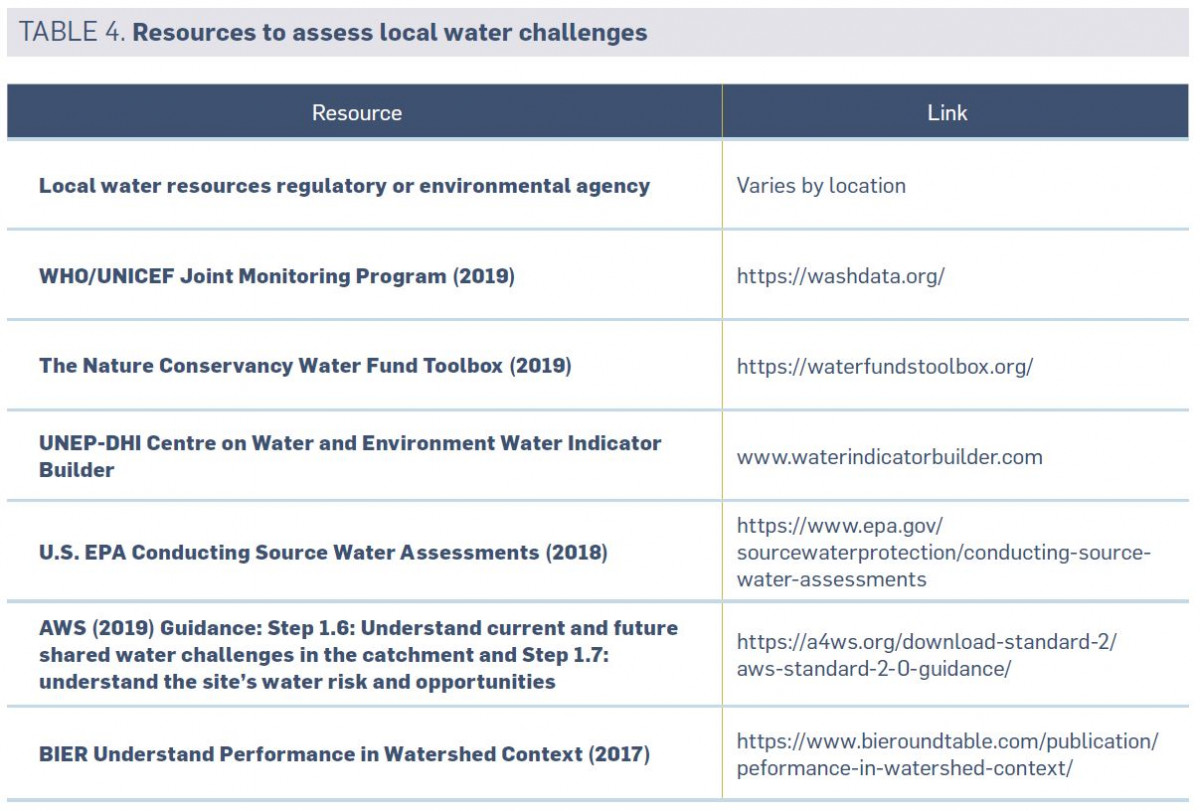 Continue on with the Guide
Michigan Water Stewardship Program. http://www.miwaterstewardship.org/residents/learnaboutourwater/michiganwatershedsandyou.
Modified from: AWS, International Water Stewardship Standard v2.0, March 2019. https://a4ws.org/the-aws-standard-2-0/.
Global models, which are incorporated into tools such as Aqueduct and the Water Risk Filter and, are intended for larger catchments and are often not as accurate as validated, local data. For example, WaterGAP, one of the key global hydrological models, is reasonably calibrated to HydroBASIN Level 6 or 7 but is not suitable for application at scales finer than this.