[vc_row][vc_column][vc_column_text]
Tool

An example "Know your WSI participants" checklist and other sources of information relating to due diligence investigations.

Related Key Activities

Analyze WSI participant records and incentives.

Questions Addressed

How can the WSI understand the track record of its potential participants to ensure the integrity of the initiative?

Purpose

A proper due diligence process will help WSI participants identify potential past unethical behavior by any participant, in order to determine proper next steps and avoid conflicts:

Develop greater understanding of WSI participants at the outset.

Mitigate risk of integrity issues related to past participant behavior and track record.

Possible Users

WSI initiator, might be a single organization or a small group of organizations that are providing financial support to a WSI or are involved in its development, including donor agencies planning to support a WSI.

Level of Effort

From simple checklist to comprehensive background research by an independent party.

WSI Phase

1: Incubation and Initial Analysis, completed in 2: Formalization.
[/vc_column_text][/vc_column][/vc_row][vc_row][vc_column][vc_column_text]Due diligence refers to the care a reasonable and prudent party should take before entering into an agreement or transaction with another party — whether they are NGOs, government, or private companies. It involves a systematic collection and analysis of information on how a particular organization is managed or conducts its business. A due diligence investigation reveals whether a potential participant in a WSI commits to professional and ethical business practices, and uncovers the risks and opportunities that come along with involving this participant. A due diligence assessment will be useful for the WSI initiators while scoping prospective participants in order to assess whether that organization is fit to assume a specific role in the WSI.[/vc_column_text][/vc_column][/vc_row][vc_row][vc_column][thim-heading title="Guidance for implementation" line=""][vc_column_text]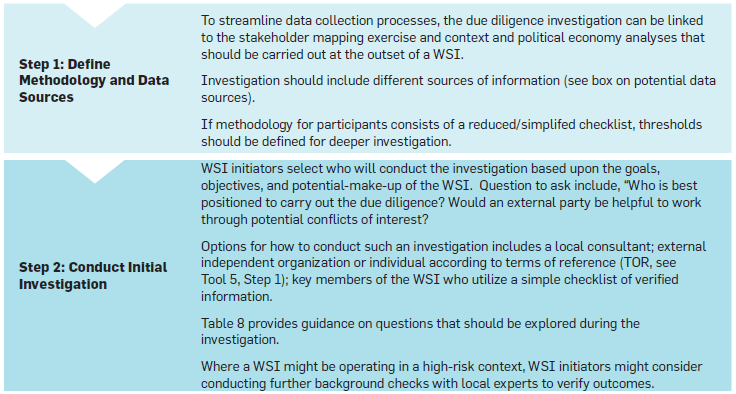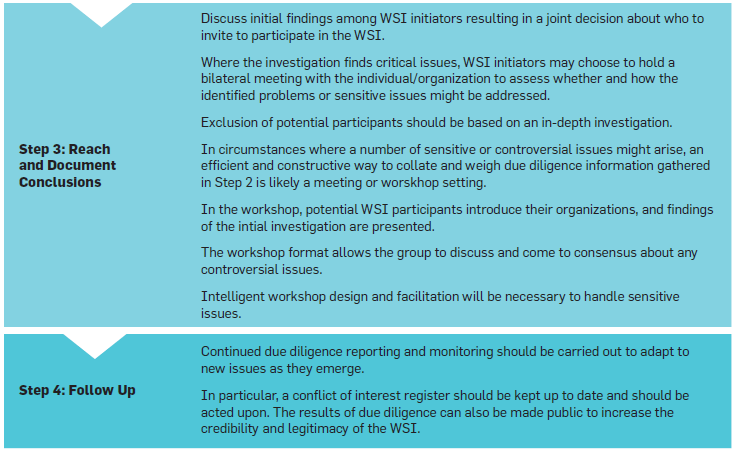 [/vc_column_text][/vc_column][/vc_row][vc_row][vc_column][vc_btn title="Download Full PDF for more detail" size="lg" align="left" i_icon_fontawesome="fa fa-download" add_icon="true" link="url:http%3A%2F%2Fbit.ly%2F2DFpuQc|||"][/vc_column][/vc_row]