Fieldwork undertaken for this project has identified the range of integrity risks facing WSIs through analysis of 18 historical, ongoing, and emerging WSIs and 50 interviews with diverse stakeholders involved in them.
The integrity risks that emerged have been grouped within 15 WSI integrity risk areas, which are summarized and mapped in the figure below. Integrity risks areas with the potential to have more severely negative social, economic, environmental, or institutional impacts were assigned a higher hazard ranking than those whose negative impacts would most likely affect individual WSI participants or the internal dynamics and efficiency of a WSI.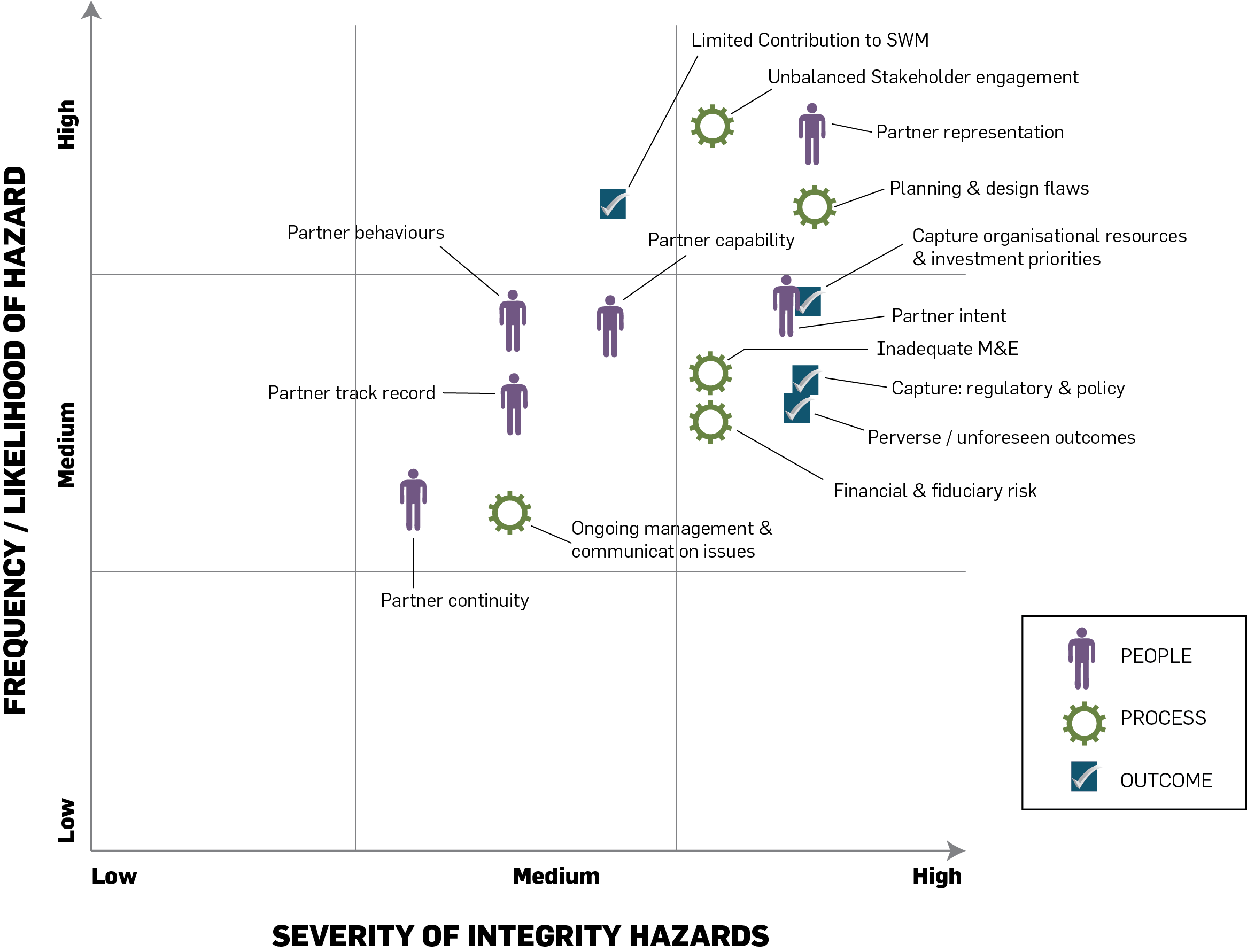 Integrity Risk Areas Related to Outcomes
From an integrity management perspective, it is important to ensure that the objective(s) or intent of a WSI focuses on advancing water security rather than pursuing vested interests at the cost of public interest and resources. In this context, a number of integrity risks are related to capture (of public finances, regulatory action, policy making, and access to water). Additional integrity risks can arise unintentionally via perverse outcomes where the WSI creates negative impacts for the environment, people, or institutions. Lastly if the contribution of a WSI to SWM is not properly measured, is very limited in scope and depth, is not sustainable, or comes at a high cost, then integrity is also at risk.
Integrity Risk Area
Examples
capture: organizational resources and investment

A WSI focuses significant regulatory agency effort on a polluted watercourse near a corporate site that poses no serious health risks, while gross pollution of a nearby river threatens the health of thousands.

Senior staff from the Ministry of Water, which faces severe human resource shortages and decision-making backlogs, are seconded into a poorly designed WSI that doesn't address the Ministry's strategic priorities.

capture: regulatory action, policy, and water

A WSI pays or influences a government regulator to take enforcement action, to resettle communities, or prevents it from taking enforcement action against breaches of water law.

A WSI with unbalanced representation lobbies for and takes a lead role in drafting strategy, policy, or statutes on water offsetting.

WSI investment by partners is conditional to their uninterrupted access to water during drought.

perverse outcomes

Technological and infrastructure investment are not accompanied by an Environmental and Social Impact Assessment (ESIA) or other safeguard mechanism.

A WSI undermines the ability of small farmers to access markets.

A WSI undermines rational behavior by making payments to community members or civil servants.

limited contribution to SWM

A WSI fails to establish a baseline and logical framework, and is unable to demonstrate any tangible outcomes, yet makes significant claims about its contribution to water security.

Local learning and experiences from a pilot intervention are not documented or shared for strategic uptake.
Integrity Risk Areas Related to Participant
Integrity risks related to participants include: the track record (i.e., reputation, past performance); representation (i.e., appropriate representation of affected stakeholders); intent and incentives (i.e., understanding motivations of participants); capability (i.e., whether participants have adequate knowledge/ resources to fulfil their role); conduct (i.e., participant behavior including compliance with agreed procedures and policies); and long-term engagement (i.e., ensuring that participants show continuity, and are committed and engaged in the initiative).
Integrity Risk Area
track record

A business participant in a WSI has an appalling record of human rights abuses and aggressive tax avoidance, and has recently been fined for causing pollution of a high-profile river.

An NGO participant has been prosecuted for corrupt practice in the past.

Communities refuse to work with a WSI because a corporate participant is perceived as a "bad apple."

representation

Key stakeholders affected by or influential to the WSI and its objectives are not in the room. The main users and polluters of water, the communities affected by degradation and depletion, and the government bodies responsible for management have not been engaged successfully.

Local government, NGO, or business umbrella organizations are involved in the WSI, but they do not genuinely represent or communicate with the stakeholders they claim to speak for.

intent and incentives

Businesses do not commit to or seriously engage with the WSI, or do so only for public relations purposes, or to position themselves for lucrative contracts.

Local government staff only turn up to WSI meetings upon payment of a sitting allowance.

capability

The WSI initiator or lead practitioner does not have sufficient experience to design and deliver the initiative.

Civil society organizations are not involved or unable to deliver key roles because they have no core funds.

Government participants are unable to deliver planned work because they are under-resourced.

conduct

Inappropriate and dishonest claims are made by one participant about how much they have achieved through the WSI, without recognizing the efforts of others.

Partner staff do not respond to communications or attend meetings, or have acted maliciously toward potential partners.

continuous engagement

The WSI initiator and most active participant has moved on to a new job, leaving no successor, institutional memory, or commitment to the initiative.

Participants in a WSI modify their objectives or budget commitments.
Integrity Risk Areas Related to WSI Governance and Processes
Integrity risks related to the governance and management processes of a WSI can be introduced during planning and design, stakeholder engagement, decision making and communication, financial management, and monitoring and evaluation. Getting these processes right is critical to ensuring that the WSI delivers on its objectives and serves the public interest. In the absence of robust, well-designed, and transparent processes for planning, decision making, stakeholder participation, whistle-blowing, financial management, and monitoring, WSIs are vulnerable to corrupt behaviors, capture, and manipulation toward vested interests.
Integrity Risk Area
planning and design

A WSI pays local government staff to clear waste from a river, but it emerges that the same local government illegally dumps waste into the same river.

A WSI invests in non-viable technologies, infrastructure without operations and management planning, or environmentally damaging infrastructure.

A WSI generates a payment scheme for watershed services, but this fails due to competition with existing statutory water use payment schemes, and lack of demand.

stakeholder engagement

Access to decision making in a WSI is based on non-transparent selection criteria or payment of a fee, restricting the presence of those affected by the initiative.

Communities directly affected by a WSI are not identified or engaged because they are perceived as low priority.

Engagement with influential business partners fails because the business case and mode of outreach is unconvincing.

Stakeholder engagement processes are manipulated by the head office of WSI participants.

managing responsibilities, decision making, and communication

WSI meetings are conducted in a language that few participants understand well.

WSI meetings are poorly managed, not documented, and decisions are not implemented.

financial management

There is financial leakage from a WSI and unaccounted for expenditure.

Introduction of payments for participation and fulfillment of roles by a donor grossly skews incentives of participants.

A WSI facilitates corrupt relationships, or fails to act on corrupt practice.

monitoring, evaluation, and learning

A WSI has unclear objectives and cannot demonstrate what it has achieved. Tracking achievements, implementing corrective management, and ensuring value for money are impossible due to the lack of monitoring and evaluation (M&E) framework. M&E data or results are not shared, hence the motives of partners and role of WSI are questioned.
Continue on with the Guide