Presently, two billion people around the world are living in water-stressed areas, and the same will be true of more than half the world's population by 2050 if no action is taken. Based on projected demand, the world will face a 40 per cent shortfall in freshwater supply within 10 years.
Climate change is already greatly exacerbating the world water crisis – intensifying floods, prolonging droughts, and more. In many ways, the worst impacts of the climate crisis will be felt through water. Unless urgent action is taken, these impacts will only worsen in the coming years and decades.
Digitizing Water Resilience Monitoring in Basins
Call for Proposals Now Open 1-30 Nov. – Webinar 3 Nov. – Digital Basin Monitoring RE: Innovation Collective Action: Digitizing Water Resilience Monitoring in Basins – WRC – European Space Agency
Click here to learn about the official launch of the Water Resilience Coalition.
With urgent action, the world's water crises can be alleviated. But it will take leadership from industry and partnership from expert communities, Governments, NGOs and others.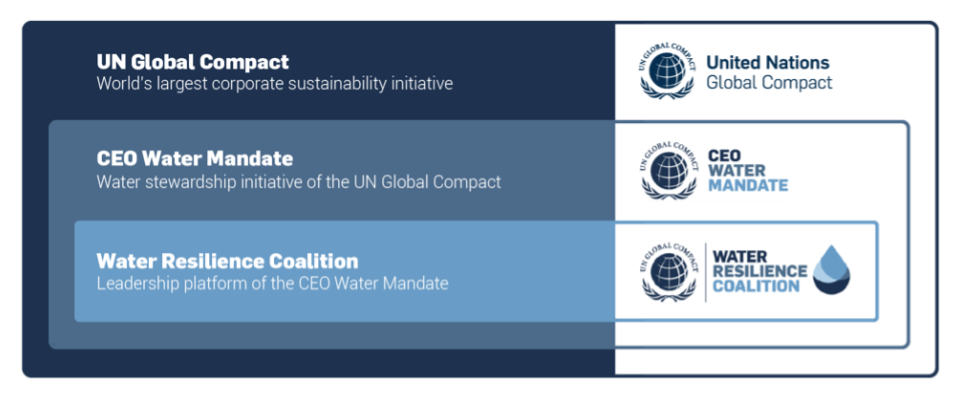 The Water Resilience Coalition, founded in 2020, is an industry-driven, CEO-led coalition of the UN Global Compact CEO Water Mandate that aims to elevate global water stress to the top of the corporate agenda and preserve the world's freshwater resources through collective action in water-stressed basins and ambitious, quantifiable commitments.
To date, over 25 companies have joined the Coalition and have signed a pledge towards three overarching 2050 commitments. Join us!