Ensuring that engagements are credible and legitimate depends largely on the extent to which companies are accountable for their actions and transparent about their intentions and results. Creating and maintaining lines of communication with key stakeholders is critical to achieving these goals. This section outlines some measures that support this ongoing process.
Implement review and response mechanisms
Consistent with Principle 5, the most effective and credible engagement is that which addresses problems proactively and is sustained over the long-term until shared objectives are met and systems are put in place to ensure sustained management. Because of this, engagement actions must adapt to weaknesses in strategy or changes in the environmental, political, and social conditions of a catchment. Reviewing entails assessing new processes with respect to intended outcomes and determining where changes might occur. Responding involves following through on the actions necessary to achieve the intended outcomes. This review process is particularly relevant to water policy and management, given the highly dynamic and iterative nature of public policy.
Disclose outcomes of policy engagement actions
The extent to which external stakeholders support and provide legitimacy to engagement is largely dependent on the company's ability to clearly communicate the objectives, strategies, and outcomes of engagement efforts. The effectiveness of this disclosure depends on many factors, including developing effective avenues of communication, targeting the right audiences, providing meaningful information, and developing mechanisms through which stakeholders can provide feedback. 
Prior to engagement, companies should share the following information with stakeholders:
A full list and description of involved parties (i.e., the company, their partners, engaged public agencies, and potentially affected communities). 

Information about the motivations for engagement from the perspective of all involved parties. 

The specific objectives of engagement and planned changes to local water management, policy, and/or infrastructure. 

The expected timeline. 

The amount and distribution of financial commitments.
Companies should provide frequent status updates on this information through the engagement process as progress is made or setbacks occur. 
Once engagement is complete, companies should also disclose engagement outcomes to a broad range of stakeholders to fulfill commitments to transparency and accountability.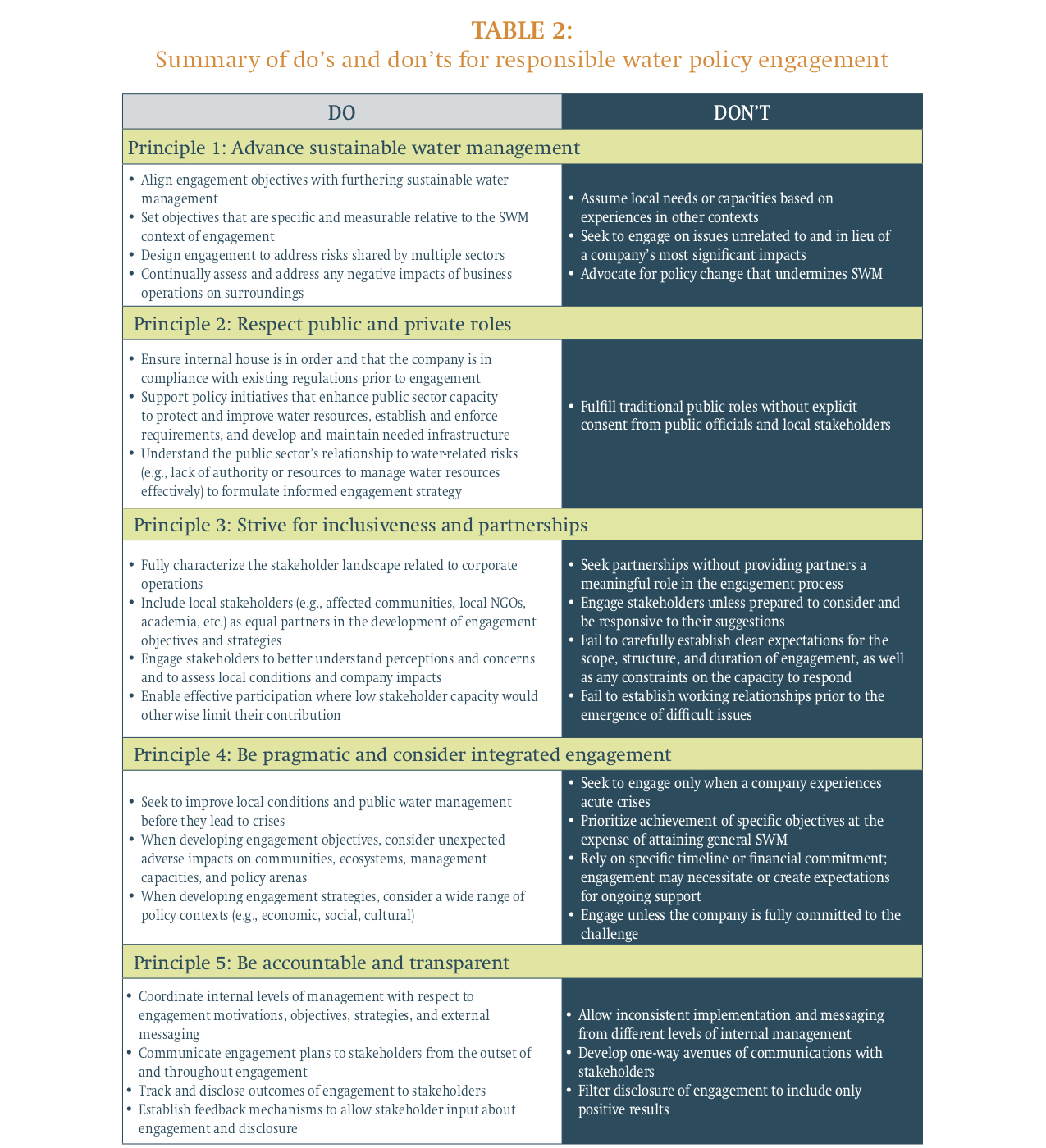 Continue on with the Guide