Scoping Water Challenges and Action Areas
The process of characterizing your water-related challenges and identifying your collective action interventions builds from exploring the following questions: 
What are your priority water-related challenges in the catchment of concern, and what socioeconomic drivers and underlying deficiencies in the water system led to the challenges? 

Which type of interventions (action areas) will best address the problems you have identified?
Characterizing Your Water-Related Challenges and Underlying Causes
Your company's water-related risks and opportunities stem from the nature of the catchment's water challenges and your company's vulnerability to them. These challenges will tend to be associated with: 
An overallocation of, or a competition for, available surface water or groundwater; 

A lack of access to, or an inadequate reliability or quality of, a water supply; 

Deterioration in the quality of water resources and the impacts on you or other users; 

Damage to infrastructure or activities arising from extreme flood events; or 

The degradation of ecosystems (and the services they provide) through changing flow or quality regimes. 
While your vulnerability relates to these challenges, your internal company strategies and processes around production, supply chains, and water stewardship support your ability to adapt to or mitigate these challenges. For example: 
Operations with "junior" legal allocations of water are more vulnerable to supply restrictions during droughts; 

Just-in-time production is vulnerable to supply disruptions associated with failures in the water system; 

Company pretreatment facilities can mitigate a deteriorating quality of water supplies; 

Diverse supplier locations are less vulnerable to localized water shortages. 
Collective action is typically warranted only when your internal strategies cannot effectively manage the suite of physical, regulatory, or reputational risks associated with external water-related challenges, or effectively support the capture of desired water stewardship opportunities. The figure below depicts how your water-related interests in collective action may emerge from company- and community-level water challenges.
Characterizing Water-Related Challenges, Causes, and Risks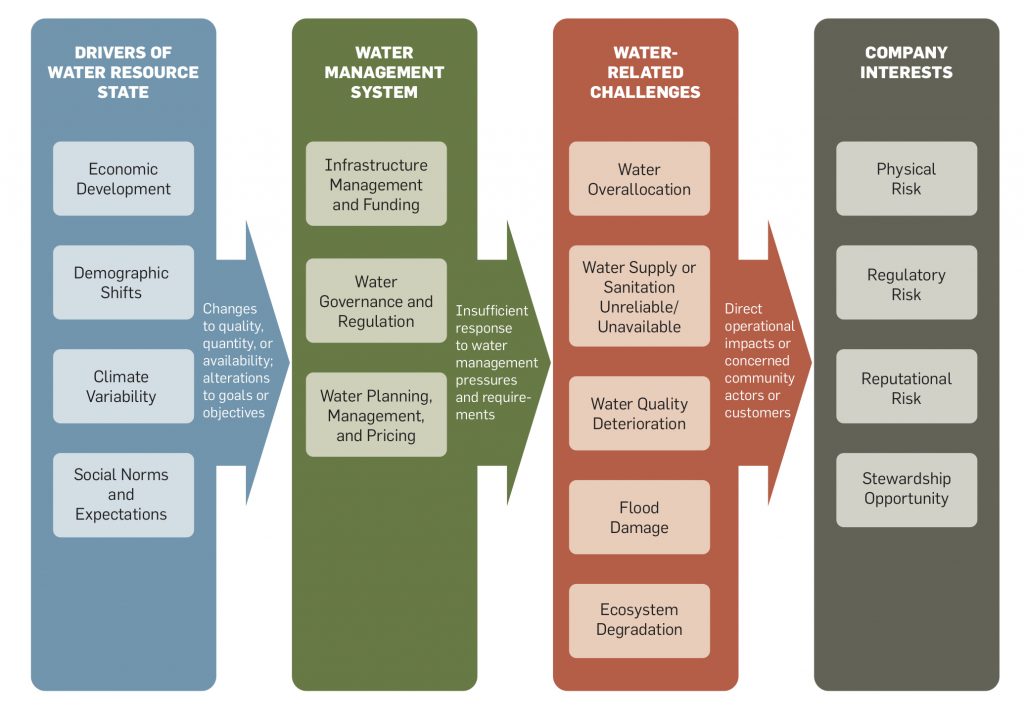 Selecting Your Intervention (Action Area) Options
Having characterized the water challenges and associated causes, you are now in a position to consider the collective  action interventions best suited to address them. The box below lists 12 potential collective action interventions.
Potential Collective Action Areas
Efficient water use
Effluent management/wastewater reclamation/reuse
Community-level access to safe water, sanitation, and hygiene (WASH)
Storm water management and flood control
Infrastructure finance, development, operation, or maintenance
Sustainable agriculture
Climate change adaptation and resilience
Ecosystem or source-water protection/restoration
Monitoring and knowledge sharing
Engaging in participatory platforms
Public awareness and education
Improved water governance, and policy development and implementation
Bringing It Together
The figure below  provides an example of a process map your analyses could produce. The map tells the story of a water-related challenge you face and possible action areas you could pursue to address it. In this case, the challenge is water quality deterioration from sediment runoff. The water system deficiency is a lack of land-use standards that prevent sediment from reaching surface water, and the water resource system driver is an expansion of agricultural activity that has increased the sediment load beyond the assimilative capacity of the water body.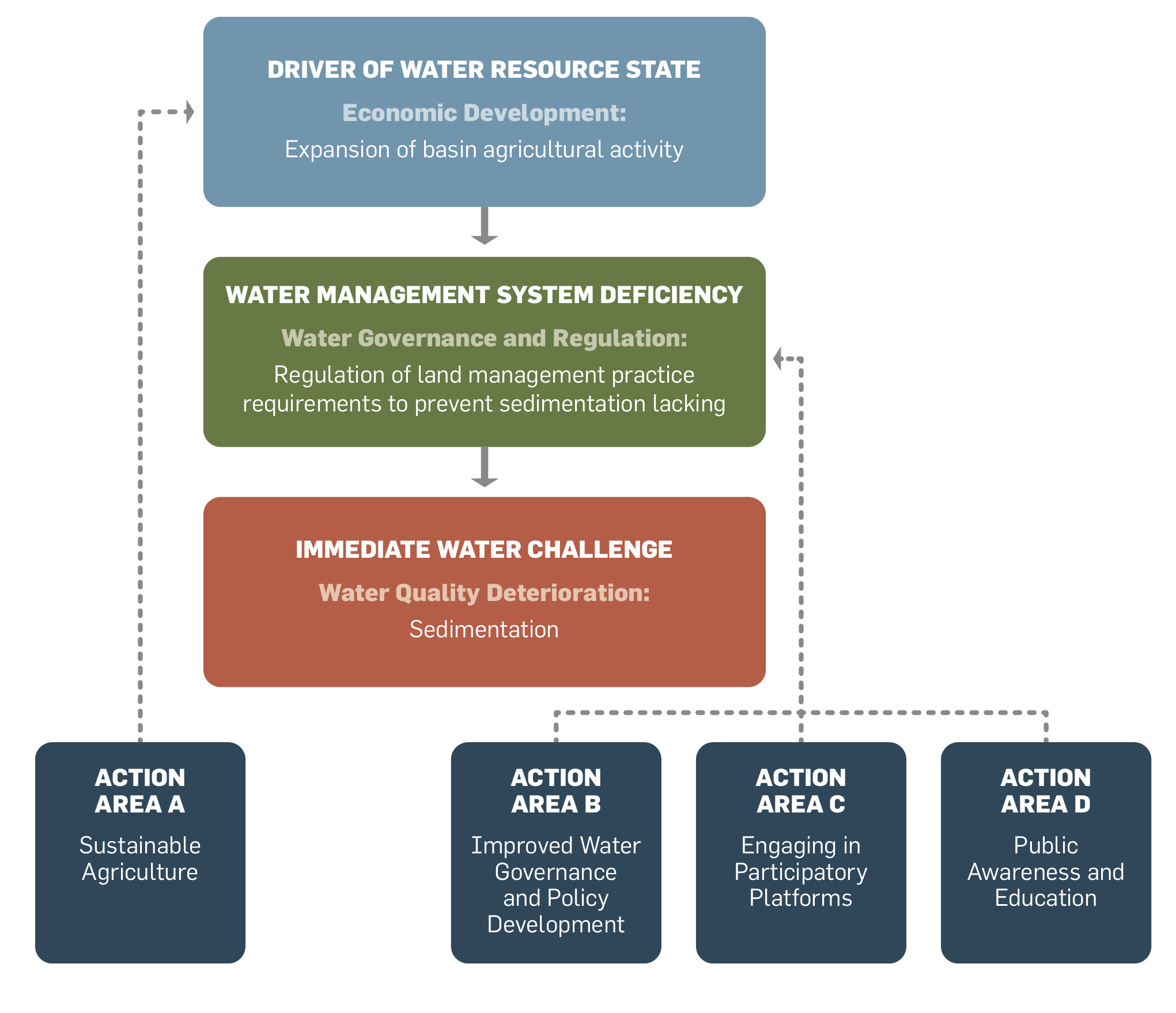 Identifying and Characterizing Prospective Participants
Articulating the specific water resource management challenges facing your company and identifying a set of potential collective action interventions well-suited to address them provides you with the baseline information needed to identify the most relevant external parties and the starting point for the conversation you need to have with them.
In the absence of careful scrutiny, you will run the risk of an overly cumbersome process (all parties engaged with equal intensity), a failure to engage a party of critical importance to addressing your challenges, or a poor choice of partners. You can avoid these pitfalls by addressing the following questions: 
Who has what type of interest in your challenges and planned action areas? 

Who can best help address your challenges as a partner? 

Who needs to be part of the solutions that will address your challenges?
Collective Action Levels and Associated Requirements

Selecting among the engagement levels involves the exploration of three factors: 
External-party dependence As the dependence on external parties for addressing your water challenges increases, the need for establishing shared responsibility and coordinated joint action will also increase. 
External-party interest and capacity As more engaged (collaborative or integrative) levels of collective action are desired, the demands will be greater on the external parties.
Internal-company interest and capacityThese conditions speak to the basics of whether your organization can support effective involvement at the desired level of engagement. Low interest (buy-in) among key staff, limited time or financial resources, or a strong organizational culture of independent decision making and control can substantially inhibit the available engagement options.
Designing Collective Action Engagement
When designing your collective action, you will: 
Formulate preliminary desired outcomes, clarify your collective action intentions, refine your identified action areas to be more specific, and explore geographic scope and scale of the effort; 

Assign initial core team responsibilities and address general participation requirements; and 

Make at least initial plans for addressing any interest or capacity deficiencies you may have identified that constrain your ability to act.
Specifying Desired Outcomes, Formulating Collective Action Process Intentions, Refining Action Areas, and Establishing Geographic Scope and Scale 
Specifying Desired Outcomes: To provide strong internal and external clarity regarding your purposes for initiating collective action, it is important to specify in a measurable manner your desired outcomes. 
Formulating Collective Action Process Intentions: Formulating your intentions clearly is critical, as they underlie the requests you will be making of the collective action participants. 
Refining Action Areas: To be effective in your initial discussions with interested parties, you need to specify the type of intervention you have in mind based on the challenges you face, the long-term goals you have, and the initial commitments you are willing to make.
Establishing Geographic Scope and Scale: The scope and scale of your collective action should follow directly from your water resource management challenges and your specific planned interventions. Some challenges and interventions can be undertaken solely within a specific catchment context, while in other instances, your challenges and interventions will be tied to regional, national, or even international contexts
Establishing Core Roles and General Participation 
Establishing the right team is integral to building trust and relationships among all the participants involved in a collective action.Trust and credibility are often the cornerstones of a successful process, particularly wherever negotiations or a merging of interests is required.
Addressing Interested-Party Interest and Capacity 
Your collective action development will need to include a consideration of any identified deficiencies, and the articulation of actions needed to address them. Interest deficiencies will most often relate to a lack of recognition of shared risks, responsibility, or benefits. Capacity deficiencies typically result from a lack of technical expertise or financial wherewithal to engage as an equal and effective participant in the collective action.
Addressing Internal Interest and Capacity 
Your development efforts will need to line up internal staff and financial resources, as well as address any deficiencies in the responsiveness and collective action experience your organization has, relative to your selected level of engagement.
Continue on with this Guide