Barriers to Private Sector Action
The risky alternative to the proactive management of climate-related risks is for companies to learn by experiencing the full brunt of climate-related impacts. Yet like other groups across/within society, many companies have been slow to respond. Past planning and management efforts were typically based on the assumption of climate stationarity: assuming the past predicts the future.1,2 However, it is now clear that this is no longer a valid assumption.
Uncertainty about the timing and severity of possible climate impacts are common reasons for inaction. However, companies are accustomed to making decisions within a large spectrum of uncertainty on a suite of factors, and a number of approaches have been developed to help companies deal with climate-related uncertainties (see Table 1 and Box 1).
Common barriers to company action, as well as illustrative examples of how companies and representative organizations have acted to circumvent them, are outlined in Table 1. The barriers have been framed around the three "revolution areas" put forward by the Global Commission for Adaptation to drive appropriate decision-making and the release of required public and private financial flows.3
Table 2. Illustrative prompt questions for companies to assess their readiness to build resilience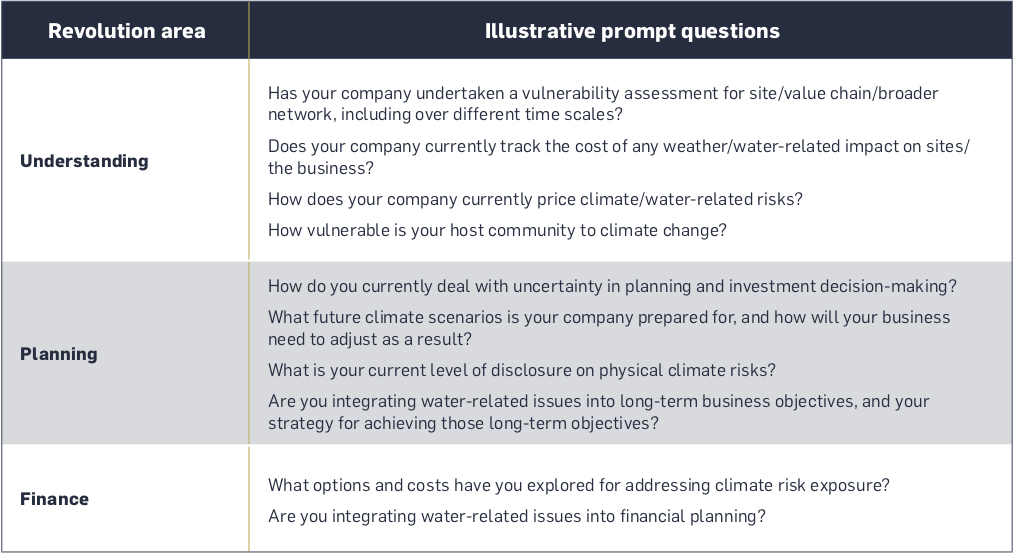 Continue on with this Guide