We are facing a global water crisis with increasing competition to access freshwater resources of declining quantity and quality, exacerbated by climate change. Addressing this challenge requires urgent collaborative action by all stakeholders across the private, public and civil society sectors – as reflected by Sustainable Development Goal 6 (SDG 6) of the UN's 2030 Agenda for Sustainable Development. Joined-up conversations are required at all scales, however targeted action is often focused at the catchment scale reflecting the local nature of water and the need for a local collective response.
Despite the urgency of this need, there remains no simple, consistent method for all stakeholders to measure and communicate their water needs and practices, leading to misunderstanding and misalignment.
As a co-partnership, the CEO Water Mandate and the Water Resources Institute (WRI) propose to develop a a simple common water accounting framework which can be applied by all water users, in all water contexts, at all scales.
The framework will enable impactful collaboration at catchment level, generating 'apples with apples' conversations between all stakeholders by:
providing common metrics and terminology;
accommodating the wide variety of data formats and qualities inherent across different water contexts and actors; and
allowing simple aggregation of data to any scale of interest e.g. from the facility to catchment, to sub-national, national or supra-national levels.
Objectives of this Research
Find the common language to facilitate water-related collective action; and
Encourage as many people as possible to use it to catalyze more sustainable approaches to water security.
The Common Water Accounting Framework (CWAF) will tease out the concepts of what already exists for water accounting and create consensus on what is essential standardization to allow dialogue between different water users in different business sectors and the public sector.
Timeline: January 2019 – September 2021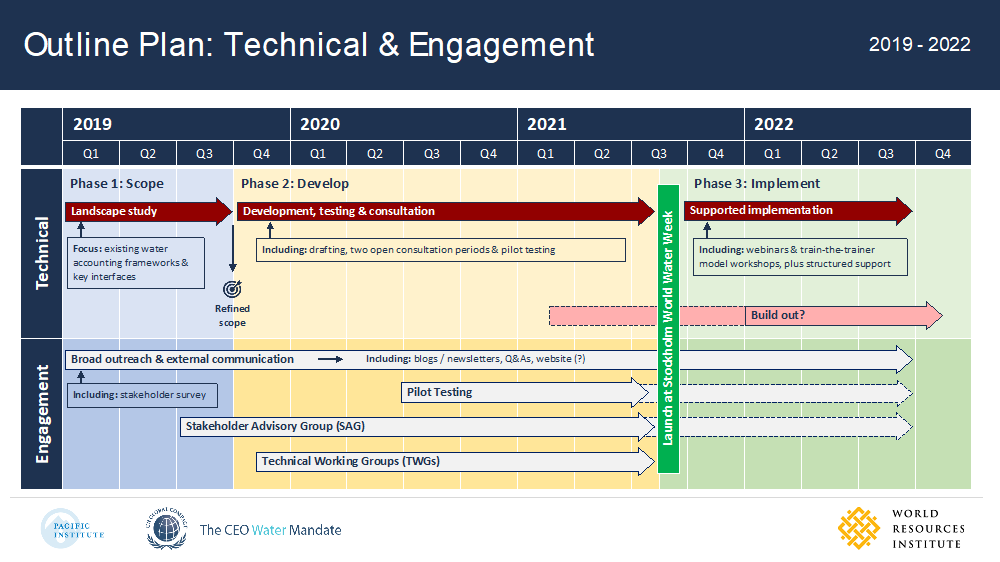 We will be conducting a stakeholder survey for this research later this summer – please re-visit this page for further details on how to participate in August 2019.
The UN Global Compact CEO Water Mandate and World Resources Institute will be presenting the results of their scoping study in a roundtable event at the CEO Water Mandate side session on Tuesday 27 August 2019. If you would like to receive further information on how to participate in this roundtable, please click here to sign up to our mailing list.
Academic and research organizations
Assessment tools for water
Climate
Donor organizations
Finance and investor organisations/platforms
Government agencies
Industry bodies
Industry
NGOs
Natural Capital
Reporting standards, Disclosure & Certification
UN Agencies and partner organisations
We want to engage with actors from the private sector, public sector, academia, and the broader water-related community to gather opinion and recommendations on how to develop our research scope and where to focus our energies in the short-term to start building a strong foundation for enduring results. We also wish to understand from attendants how our research might 'plug in and play' with other water accounting and corporate reporting initiatives that aim to improve the lives of our broader society in areas of public health, food security, climate mitigation & adaptation, and sustainable livelihoods, so that nobody gets left behind.