There is no shortage of sustainability and social responsibility issues for businesses to understand and address. Often, businesses only have limited resources to devote to these issues and therefore have to prioritize some over others. How can you know if water is particularly relevant to your business success and your stakeholders, and therefore warrants priority action?
---
Answer the following questions to assess whether water is particularly relevant to your company.
Question #1: Are the river basins in which my company operates water-stressed?
Water is an inherently local issue; certain geographic regions are much more likely to expose a company to water risk than others. Water stress – the inability of a region to meet human and ecological demand for fresh water – is the single most important factor in determining whether a region is likely to expose a business to water risk. As water stress worsens, so do water risks. To determine how relevant water is to your business and stakeholders, you can start by gauging the extent to which your operations and value chain face water stress. Such an assessment offers insight into the extent you face risk due to basin conditions. Even if none of your owned-and-operated facilities face water stress, you still face potentially significant water risk if your suppliers or customers do. There are now several free, online tools that offer such an assessment including:
You have one or more operation of critical importance in an area considered highly water-stressed
A majority of your operations and/or suppliers are located in areas considered moderately water-stressed or worse
Question #2: Is my industry sector particularly vulnerable to water risk?
A second step in understanding whether water is particularly relevant to your business is determining whether your industry sector generally is exposed to water risks. This type of risk is sometimes referred to as water risk due to company operations. For some industry sectors, like food and beverage, water is inextricably linked with their production processes. Therefore, companies in this sector are often highly exposed to water risk. For others, water may be somewhat relevant, but not necessarily a top-priority issue. Below is a list of industry sectors for which water is typically a high or medium priority.
High Priority
Medium Priority

Agriculture
Beverage producers
Biomass power production
Chemicals
Clothing & apparel
Electric power production
Food producers
Food retailers
Forestry & paper
Freshwater fishing & aquaculture
Hydropower production
Mining
Oil & gas
Pharmaceuticals & biotech
Technology hardware & equipment, semiconductors
Water utilities & services

Construction
Gas distribution
Manufacturing of industrial household goods, home construction, leisure goods
Media (printed)
Real estate (asset owners)
Transportation
Travel & leisure
Source: Ceres. The Ceres Aqua Gauge: A Framework for 21st Century Water Risk Management, 2011.
Putting it all together
Once you have a sense of 1) the extent to which your operations and value chain faces water stress and 2) the typical relevance of water to your industry sector, you then have a stable footing to understand whether water is a priority issue for your company. Below is a matrix that can help visualize this relevance. Companies that fall in the red should begin implementing water stewardship as soon as possible. Companies in the orange will likely also want to pursue stewardship in the near future. If in doubt, keep in mind that according to CDP, in 2014, two thirds of the world's largest companies reported exposure to water risks.
What if water ISN'T particularly relevant to my company?
Even if water doesn't necessarily pose significant water risks to your company now, there is still good reason to pursue water stewardship. First, water stress continues to grow worse in many parts of the world. Regions that are not considered water-stressed now may very well be water-stressed in five to ten years. Companies that act now will be much more prepared for ensuing water risk. Perhaps even more compellingly, water poses great opportunities for businesses to provide value to their customers and stakeholders. If your business meaningfully contributes to solving the global water and sanitation crises, whether through innovative new products or action on the ground, you can garner profound brand and reputational benefits through your leadership.
Question #3: What specific water topics are particularly relevant to my company?
Water is a complex and dynamic issue with many different embedded concerns, including water scarcity, water pollution, flooding, and so on. Your business can also seek to determine which specific water-related topics are of particular relevance to you and your stakeholders. This allows you to better understand what types of stewardship activities will be most helpful and strategic. You can start prioritizing water-related topic by assessing the company's water-related risks, opportunities, and impacts on people and ecosystems by considering your:
Impacts on water resources and access to WASH services
Business risks stemming from basin conditions (e.g., water scarcity, pollution, regulatory uncertainty, etc.)
Opportunities to contribute to sustainable water management
Opportunities to adapt to ensuing changes in basin conditions (e.g., climate change or land use) and planned changes in policies and regulatory frameworks
Specific water-related topics:
Water scarcity and water stress
Poor ambient water quality
Regulatory uncertainty
Insufficient infrastructure
Inadequate access to water and WASH services
Drought
Flooding
Climate change
Changing demographics
Limited management capacity
Ecosystem vulnerability
Total basin availability
Supply variability
Cultural and religious values
Media awareness
If you do not have great insight into these questions, engaging stakeholders like local communities, NGOs, facility managers, and others can help you gain a deeper understanding. Once you have determined which topics are potentially relevant, you can then prioritize those topics to determine how to proceed. Fundamental to this step is assessing the significance of the risks, opportunities, and impacts associated with the topics by asking the following questions:
What is the likelihood and severity of the impacts?
Does this topic compromise your company's license to operate in a specific location?
Might this trend or condition eventually disrupt your company's operations or its value chain?
Is there an opportunity to gain competitive advantage through action in this area?
Might action in this area further assure investors and markets that business operations will continue to be profitable?
Does this topic compromise your company's ability to uphold its own values and ethics?
Next, you can determine these topics' influence on stakeholder assessments and decisions. When doing so, you proactively engage with stakeholders so that they can articulate their interests and values, their perceptions of your company's impact on that stakeholder group, or their expectations regarding the company's response to that topic. In order to determine which specific water-related topics are most relevant, a company defines the thresholds and underlying criteria (depicted by the red line) that render a topic most relevant. Topics that exceed the significance threshold set by the company are top priorities for action. Those that do not exceed the significance threshold may still be relevant, but perhaps can be pursued after once top priorities have been addressed.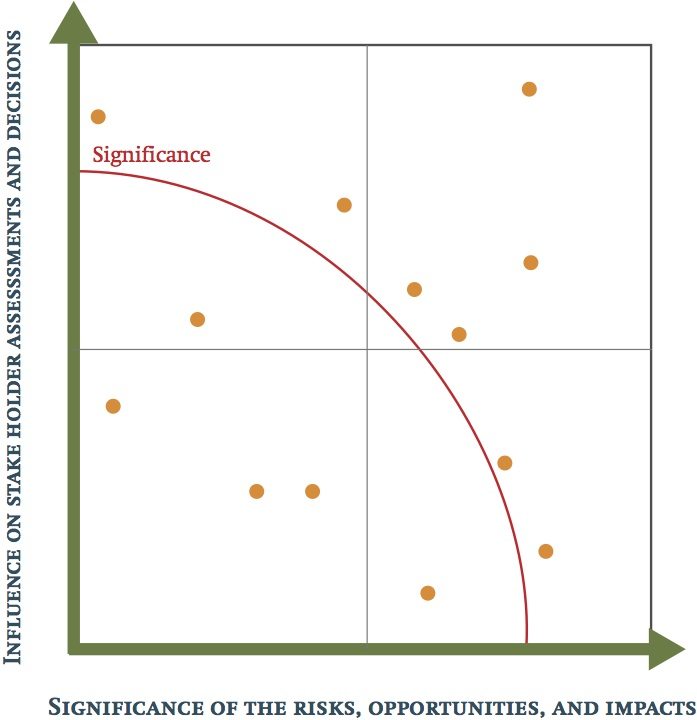 How do I begin my water stewardship practice?
Now that you understand how water is relevant to your company you can use the Mandate's Toolbox to help build your water stewardship practice.