The Types of Water Risk: The Many Ways Water Challenges Can Affect Your Business
Posted by

Date

January 8, 2018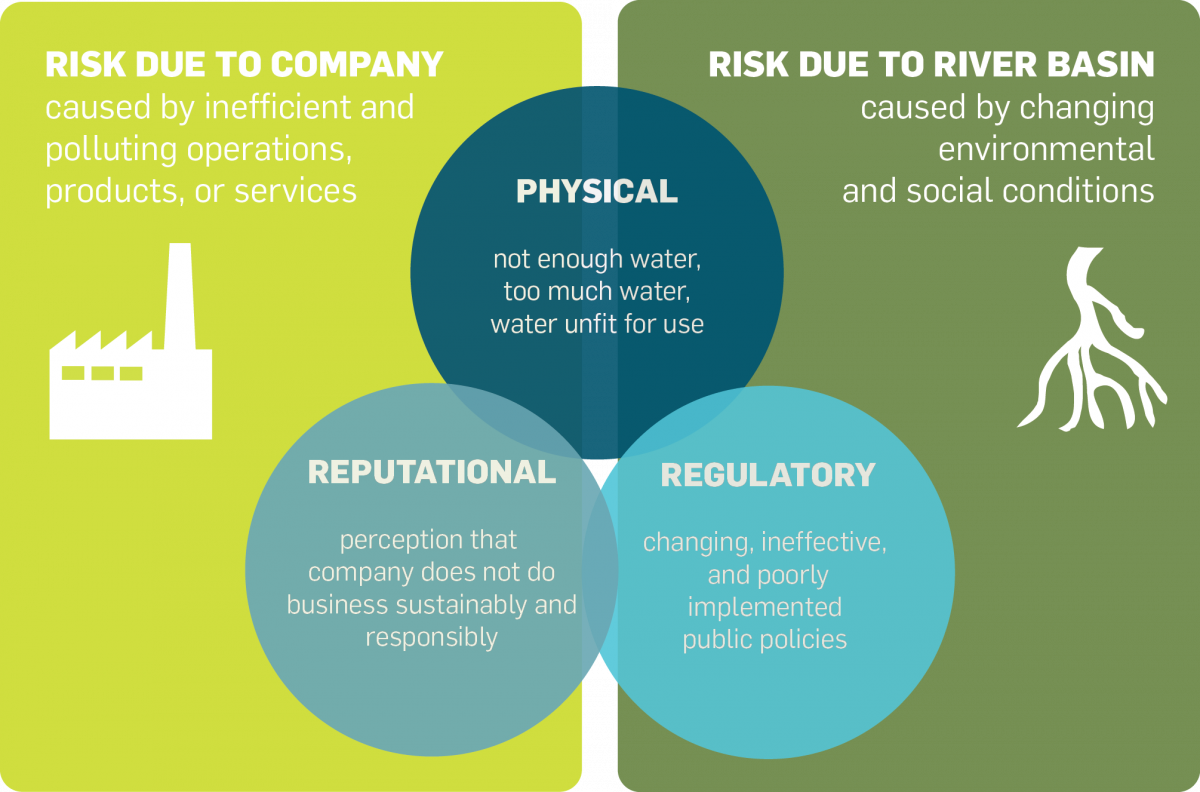 Water risk comes in many different shapes and sizes. It is caused by a wide range of water-related challenges and affects businesses in various ways. Below we offer a brief synopsis of all the various types of water risk for businesses as an introduction to the topic.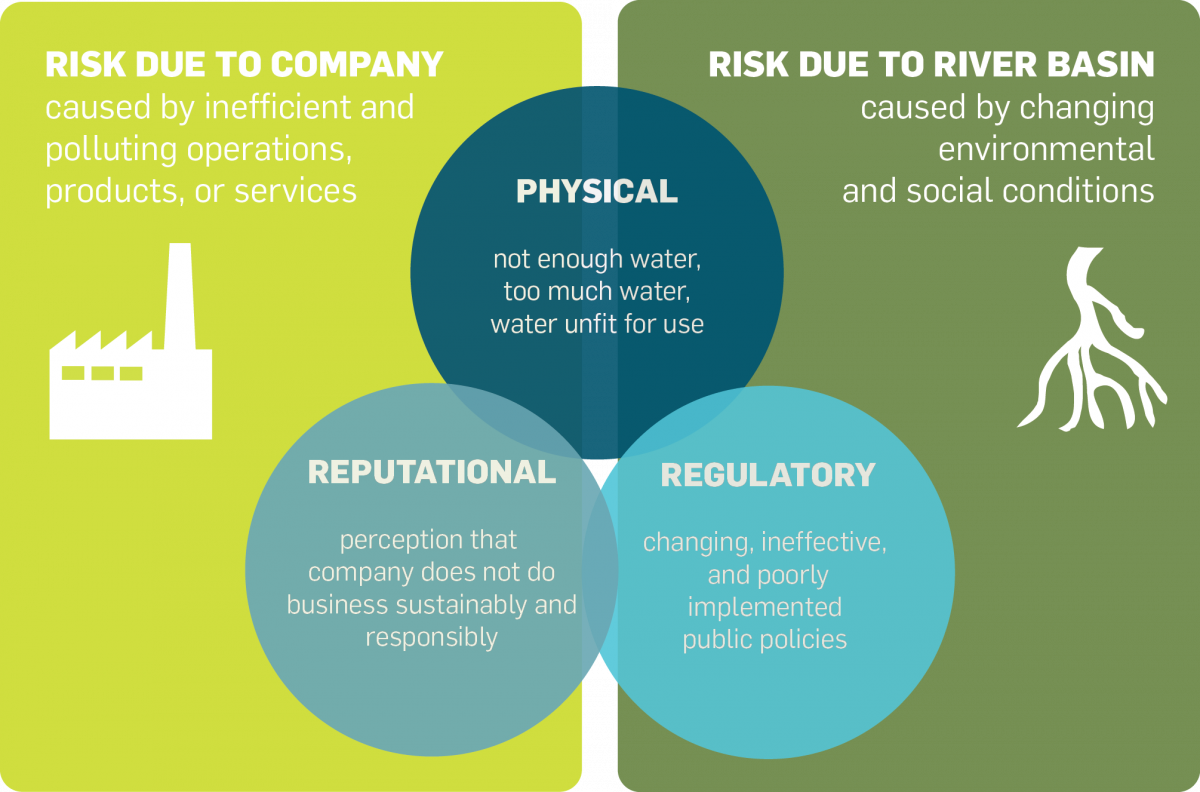 The source of risk
Water risk begins in a variety of different ways. At its core, it can be divided into two broad categories:
Risk due to the company
Risk stems from business practices that harm or could harm the environment or communities (e.g., water pollution, wasting water, failing to offer proper drinking water to employees, etc.).
For example, when a company pollutes nearby freshwater ecosystems due to untreated wastewater, it is susceptible to brand damage and perhaps even a weakening of its social license to operate. With risk due to the company, risk stems from actions that are directly within the company's control.
Risk due to river basin context
Risk stems from the broader context in which a business operates (e.g., drought, polluted waterways, inadequate infrastructure, etc.).
For example, when a facility is located in a river basin with weak and ineffective water governance, there will likely be insufficient regulatory measures to ensure that water supplies are kept within sustainable levels and allocated fairly and appropriately. Thus, the operating context in which the business works is less stable and has higher risk. With risk due to context, risk stems from realities beyond the company fenceline over which the company has limited control or influence.
The cause of risk will ultimately determine what types of solutions will be more relevant and appropriate. For a company that is contaminating local waterways because it does not properly treat wastewater, drought awareness campaigns probably won't be particularly effective or welcome. And for companies who do not pollute significantly, a drought awareness campaign is likely more helpful than investing heavily in wastewater treatment facilities.
However,  most companies are exposed to both types of risk. Thus, for most companies, some combination of both types of solutions will be beneficial and perhaps even necessary.
The effect of risk
Water risk is commonly categorized into three different types that describe how water challenges manifest themselves in relation to the company. They are:
Physical
The company has too little water, too much water, water that is unfit for use due to pollution, or inaccessible water. 
Water scarcity can halt industrial production simply because there is not enough water for production, irrigation, material processing, cooling, washing, or cleaning. A contaminated water supply may require additional investment and operational costs for pre-treatment. Availability and affordability of clean water may affect the interest or ability of customers to purchase or use certain water-intensive products and services. Water scarcity can also affect businesses indirectly by altering energy and food production.
Regulatory
Changing, ineffective, or poorly-implemented public water policy and/or regulations disrupt business activities.
Global water challenges, unsustainable industrial water practices, and increased concern among local communities about water are all putting pressure on policymakers to explore new policies. In many countries, water service providers are considering higher water prices to promote more efficient use to curb water scarcity. In others, governments are regulating industrial effluent to clean up their rivers, lakes, and streams.
However, regulatory risk is arguably most prevalent where governments are simply not able to effectively manage their water resources or create effective policies and regulations. In many areas of the world, crumbling infrastructure leads to incredible water losses, thereby exacerbating water scarcity. In others, a lack of water quality regulations causes rampant pollution to the extent that local industries must pay high costs to treat their incoming water before it is suitable for use.
Reputational
Perceptions that a company does not conduct business in a sustainable or responsible fashion with respect to water affect relationships with investors, customers, and other stakeholders.
Affected communities, civil society, investors, consumers, and the general public are increasingly engaged in issues of water sustainability. Inefficient water use or excessive pollution by a company in a sensitive river basin, whether real or perceived, can be incredibly damaging to a global brand's reputation, share price, and ability to conduct business. For example, advocacy campaigns in India forced Coca-Cola to close its plant in Kerala and recommended it pay $48 million in damages due to the belief that Coca-Cola's groundwater pumping hindered communities' ability to extract water (India Resource Center, 2010).
As with the source of risk, understanding what types of water risk you faces allows a company to craft strategic, relevant responses that both manage water risk and advance sustainable water management for all.
Recap

Water affects businesses in many different ways and there is no one-size fits all solution.
Knowing the types of risk affecting your company helps ensure that your water stewardship solutions are strategic and cost-effective